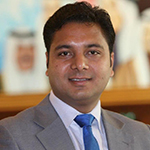 Cyberoam has announced a special rebate program for its Gold Partners and Platinum Partners in the Middle East.
Allocated different targets, the partners falling in both the categories will get the same rebate on achieving their targets. It will top other Cyberoam Partner Programme incentives.
Cyberoam security encompasses global corporations of all sizes and industries including education, manufacturing, healthcare, finance, retail and IT sectors. Cyberoam's channel comprises of experienced network security professionals, leading IT solutions providers, application developers, system integrators, managed security service providers and VARs.
To claim the rebate, Cyberoam partners need to login to Cyberoam Partner Portal and upload invoices for the same.
On approval of rebate application, reward points will be credited to partner's account, which will also be communicated by a confirmation mail.
Speaking about the programme, Ravinder Janotra, Regional Manager, Cyberoam Middle East said "This is a first-of-its kind rebate programme and we feel it will translate into tremendous success for our growing partner base."
"The partner community at Cyberoam is diversified – some specialise in the SMB segment while others have expertise in the enterprise and MSSP businesses. This ensures that all players get maximum opportunities for growth. To make sure that partners are able to meet their targets, Cyberoam announces several incentives every year," Janotra added.
Cyberoam partners also have an opportunity to enter newer product segments with Sophos' Enduser Protection Suites, Endpoint AV, Mobile Control and SafeGuard Encryption.