FVC ramped up its annual participation in GITEX this year, thanks to the addition of four new vendor-partners to its portfolio.
Along with new solutions from its already known usual vendor-partners, the Middle East-based distributor is now showcasing products from Watchful Software, Barco, Datwyler, and Cyan.
The new vendor-partners are spread across a range of various technology areas. For instance, Watchful Software deals with data security and data leakage prevention (DLP), while Barco supplies imaging solutions. Dharmendra Parmar, General Manager, Marketing,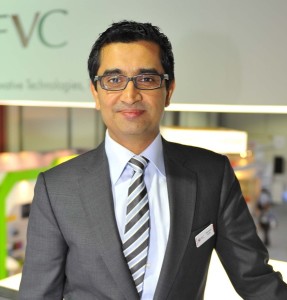 FVC, explained that the distributor was going big on some of its new vendors this week.
"Barco is already known for its large-format screens, video walls and projection systems, but Barco is also moving into the meeting room solutions as well, so that's what we're representing," he said about one of them.
Meanwhile, Darwyler provides cabling solutions for the enterprise as well as data centres – right from cables, racks and even air conditioning, Parmar said, adding that the vendor also provides tools to lay out fibre in a city-wide infrastructure.
The last of FVC's new vendors, Cyan, provides solutions for software-defined networking (SDN). "With Cyan, we're mainly targeting service providers, as well as people with their own large networks – large enterprises and such," said Parmar.
The distributor is also highlighting its new purpose-built solution called the Cylex kiosk. Targeted at banking, retail and education environments, the kiosk is fully interactive and promises to provide the kiosk format with much more functionality, Parmar said.
"For example, in a banking environment, next to an ATM machine, you could use one of these. You could be browsing through some offerings and you could talk, face to face, with an agent, who can help you on video chat to complete formalities," he explained.
One of the more impressive features of the kiosk comes with its ability to produce original signatures. A print-out of a digitally signed document does is not recognised as original by most authorities, meaning people still need to physically sign a form with a pen. At the other side of FVC's kiosk, however, features a piece of equipment that gets around the problem.
"The equipment on the other side is actually a pen, so when you sign on the screen, the pen on the side signs in exactly the way you sign it. That makes it an official document, and this is already recognised by the government of Canada, and it's used in the US," Parmar said.