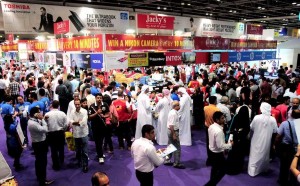 Jacky's Electronics remained the number one retailer in terms of sales revenue, surpassing initial projections by posting 11% sales increase at the recently concluded Gitex Shopper.
According to the company, while the new location of the exhibition at Dubai World Trade Centre (DWTC)  largely contributed in the sales growth there is no doubt that  Jacky's new stand design that managed to accommodate more shoppers throughout the week was behind the company's success as well. The proximity of the venue including its accessibility via the Dubai Metro attracted new customers many of whom had never visited the event when it was held at the Dubai Airport Expo in the past, it was reported.
"This year's Gitex Shopper marked our most successful participation in the event. With the change in venue, our strategic approach has also been revolutionised to cater to new and loyal customers, which has been reflected in our new, open stand design that gave better traffic flow during peak hours. Retail has always been about location and this was a much more retail friendly location.  The exhibition managed to maintain its loyal customers as well as attract first-time visitors to the event, which in turn translated into more sales for us," said Ashish Panjabi, COO of Jacky's Electronics.
The company has also recorded over 200% boost in ultrabooks sales as a result of Intel's marketing of the products at Jacky's dedicated ultrabook stand, while the notebook category grew by 10% as compared to last year. Other notable trends evident at the event were the rise in the demand of LED and Smart TVs in the 40-inch and above segment, and the spike in the DSLR cameras sales which doubled after Nikon and Canon crashed prices by 25%.
Furthermore, the smartphone category registered good sales with the launch of the new Samsung Galaxy Note 2 and the new colours of the Samsung Galaxy SIII, which led to Samsung capturing close to 50% share in the smartphone segment during the event, the company said. Meanwhile, the Apple iPad 2 and the new iPad dominated the tablets while many OEM brands in the AED399-AED999 price segment did well at the exhibition.
"Our first-ever tablet-based e-raffle was also warmly received by the shoppers as they were spared from filling up numerous raffle coupons. Through the use of our own developed App, customers used only a single input on the tablet that allowed them to enter the draw electronically. We gave away 564 Nikon cameras during the course of the eight days," added Panjabi.
Jacky's also organised several radio roadshows, Karaoke and Facebook Competitions throughout the show. Beats by Dr. Dre headsets, Mediacom Karaoke players and other special prizes were given away at the show.