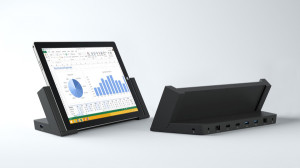 Microsoft's latest launch, the Surface Pro 3 is encased in magnesium and equipped with a 12-inch ClearType Full HD display, Windows 8.1 Pro, 4th-generation Intel Core processor and up to 8 GB of RAM in a sleek frame with up to nine hours of Web-browsing battery life.
Surface Pro 3 features a large 2160×1440 2K colour-calibrated screen and 3:2 aspect ratio with multi-touch input, so that the user can easily swipe, pinch and drag whenever required. The improved optional Surface Pro Type Cover and more adjustable, continuous kickstand will transform the device experience from a tablet to a laptop in no time.
Surface Pro Type Cover features a double-fold hinge enabling the user to magnetically lock it to the display's lower bezel, keeping the frame steady. With a full-size USB 3.0 port, microSD card reader and Mini DisplayPort, users can quickly transfer files and easily connect peripherals. The optional Surface Ethernet Adapter allows you to instantly connect the device to a wired Ethernet network with transfer rates of up to 1 Gbps.
The Surface Pen helps to mark presentations, sign documents or create art in apps like Fresh Paint. It also features two 5MP cameras capable of capturing 1080p HD video.