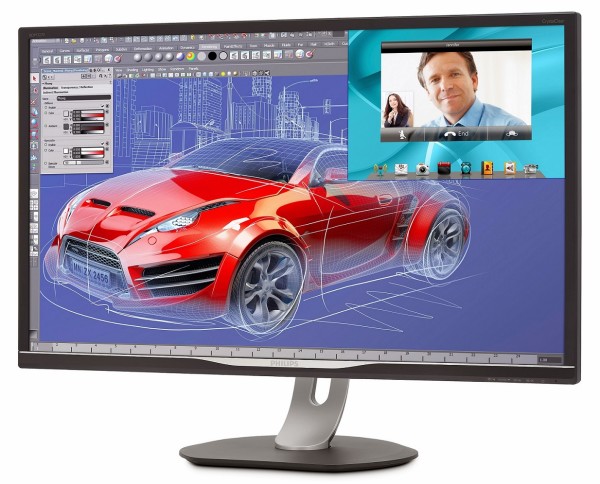 MMD, the brand license partner for Philips Monitors, announces an new addition to the line-up of displays with super-fine resolutions beyond HD. At 32 inches, the BDM3270QP display is a new size for Philips Monitors with QHD, and offers users another choice for increasing their screen space.
The new 32-inch display responds to growing demand for higher resolutions with pixel densities beyond HD at screen dimensions that appeal to users looking to scale their desktops up a level. The QHD (Quad High Definition) display offers a resolution of 2,560 x 1,440 pixels per inch with a desktop that provides plenty of space for managing multiple windows with detail-rich clarity. The resolution is matched with 1,074 billion colours and 12-bit internal processing, the new 32-inch display gives smooth, natural colours without gradations and colour banding. The display also features Philips flicker-free technology to regulate brightness and reduce flicker for an even more comfortable viewing experience.
Thomas Schade, Vice President EMEA at MMD, says, "This 32-inch display is great for users who are up-sizing from smaller screens and lower resolutions. Users can look forward to a real sense of space, combined with the sharp, brilliant resolution of QHD. And it's not just graphic designers, CAD designers and architects who appreciate the difference: people who routinely work with standard office applications are increasingly looking for more room to spread out when they have multiple windows open at the same time, but with the finer resolution to make that extra space work effectively."
It also has a high bandwidth digital sources such as DisplayPort which has a speed of up to 10.8 Gbps, HDMI and Dual link DVI and a built-in stereo speakers provide high quality audio to complement the viewing experience. The display also features MultiView technology, so users can work with two devices – PC and notebook, for instance – simultaneously, and partition the screen area for viewing content from two separate streams. Since Quad HD presents 2,560 x 1,440 pixels on every inch of display space, each area of the screen retains superb sharpness and clarity even when partitioned. There is also MHL support for streaming mobile content (while charging the mobile device at the same time) and super-fast USB 3.0.
Additionally, it also has SmartErgoBase, which allows the display to be fully adjusted to the user's preferred working height, with swivel and tilt functions to achieve exactly the right angle and keep people fitter and more productive for longer.