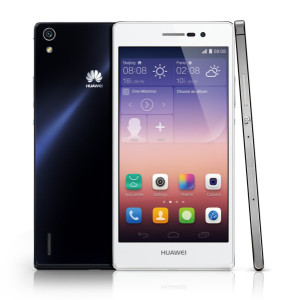 Though Chinese made smartphones may have a bad rep in the market for being poorly manufactured, Huawei's new Ascend P7 is surprisingly sturdy, classy and simply fun to use. The aptly named sequel to the P6, the P7 proves that Huawei can actually create ultra-thin devices that stand up to heavy usage.
The first thing one notices about the phone is its size. The brightly backlit, high-definition screen clocks in at 5-inches with 1080 x 1920 pixels – large enough to satisfy anyone looking to stream video, view pictures, browse the web and more. However, screen size isn't the only impressive design feature. The Ascend P7 boasts a unique, all-glass construction adding to its slick, sophisticated aesthetic. Combine the large screen, all-glass body and well-placed control buttons, and it's clear from the moment one unboxes the phone, that the Ascend P7 is a cut above the average mobile phone.
Casual and business users alike know that the real value of a smartphone lies in its ability to serve the many and varying needs of its user. The Ascend P7 has the looks to impress, but more importantly, the strength to deliver no matter what the task. Running the Android OS on a Quad-core 1.8 GHz Cortex-A9 processor, the Ascend is open to the full array of apps available on the Android market through the Google Play store. Run multiple apps, take incredible photos, organise home pages and folders with ease, the Ascend P7 is surprisingly functional and fun to use.
As with most smartphones on the market today, the creators of the P7 took social media sharing and pic snapping seriously. The Huawei designed keyboard makes for easy messaging and text correction, the primary 13 MP camera is well placed and the 8 MP secondary camera is also quite functional. The Ascend P7's native speakers are surprisingly clear.
The Ascend P7 is very slightly thicker than its ultra-thin predecessor, but the frame, sandwiched between two plates of Gorilla Glass makes up for any clunkiness.
Our verdict: Sleek and fun to use, Ascend P7 is the answer to your computing needs on-the-go.