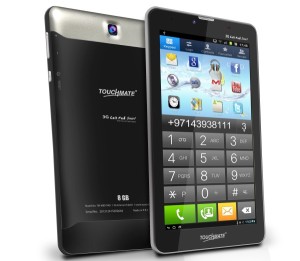 Touchmate has launched 3G Dual Core 7-inch touch screen Internet tablet with phone calling and GPS navigation features.
Users can enjoy 3G wireless Internet and phone calling anywhere, when on the move. The dual-SIM slot allows user to insert a SIM of a different ISP Company or it could be a native country SIM. It comes with a built-in GPS for map and navigation, which can be even used in vehicles. The 5-point multi touch screen supports a HD 1024 x 600 pixels for a clear view.
Running on the latest Android 4.2 operating system, the company said users can access the Internet through 3G or Wi-Fi hotspots and be able to operate social media apps. Its built-in micro USB port allows users to play USB drives through OTG cable, which is provided. Some of its other features include Bluetooth, built-in G-Sensor for 360-degrees rotate and is equipped with a fast 1.2 GHz dual core processor. It also supports dual camera and users can enjoy a long battery life on the new device.