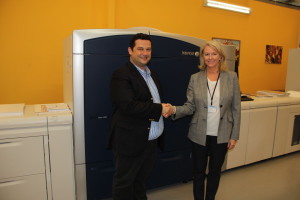 DubaiPrint flagship company NDIGITEC has partnered with Xerox Emirates to reach diversified markets with a complete web-to-print solution.
NDIGITEC has invested in the Xerox Color 1000 to support their web-to-print platform Dubaiprint.com. Using the technology, NDIGITEC aims to offer a wider range of digital media solutions to advertising agencies and brand houses accompanying a round-the-clock customer service.
Xerox Production Systems Group (PSG) caters to three main production environments – Publishing, Transaction Printing and Enterprise-wide Printing through its multiple product categories.
"We intend to give our customers the best solutions. Hence, we took the decision to invest in the Xerox Color 1000. It will also help us expand our market share in this area of business," Vatche Kavlakian, CEO, NDIGITEC said.
Andrew Horne, General Manager, Xerox Emirates is equally optimistic. "At Xerox we provide customized solutions that allow our partners to focus on their real business. Our partnership with NDGITEC supports our corporate vision of developing long-term partnerships that optimise mutual profitability and improve efficiencies. Building strategic business relationships with key players within the graphic industry like NDIGITEC will allow us to acquire further market share," Andrew said.
Xerox Emirates foresees tremendous potential in its ecommerce platform with a big percentage of revenue being generated through Dubaiprint.com in 2015.