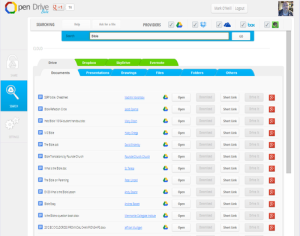 You can keep your Google Drive files private, or you can use it as one huge file sharing network. Many Google Drive users allow public access to their files, which means that if they have a certain type of file that you also need, you can request a copy…if you can find it.
Ironically for a company whose core business is based around search, you cannot directly search for anyone else's files within Google Drive, nor can you look effectively for them using regular Google search either. Mcom Multicartes created Chrome extension Open Drive to provide a search interface for these public files so you can find them more easily and efficiently.
What's more, using Open Drive, you can also simultaneously search other cloud storage systems (such as Dropbox, SkyDrive, Evernote, and Box) and have those files sent to your Google Drive account. Depending on how many cloud services you are searching across, searching may take a few moments for the results to come back, so be patient.
Once you get your results, you can then do one of the following: download it, send a copy to your Google Drive, get a shortlink to the document (for say emailing, or sending to someone via IM), or simply open it and see what is there.
If you can't find what you're looking for, you can join Open Drive's Google Plus community and request what you need. If another member of the group has it, they can send it to you.
As with any search engine results, there's some dross mixed in with the gold. However, there is still a high success rate in finding relevant files. Searching across so many cloud services at once in the same interface, saving time and mouse clicks is so convenient it borders on amazing.
Note: The Download button takes you to the Chrome Web store, where you can install the latest version directly into your Chrome browser.