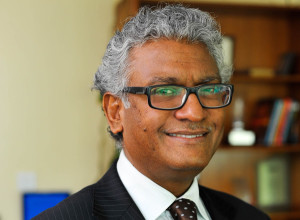 Venkat Raghavan, General Manager, Al-Futtaim Technologies, enlightens on the evolving role of systems integration in the regional IT environment and the way forward. 
Could you elaborate on your role as a systems integrator?
We term ourselves as a 'converged systems integrator'. It goes beyond the classical definition of a systems integrator or an IT company – those engaged with software services and software implementation. Although we do that, as a converged systems integrator, our occupation predominantly is with deploying turnkey solutions. And usually a turnkey solution always begins with deploying the whole infrastructure right from passive layer, cabling and also networking. We specialise in turnkey solutions for the construction sector. This business is directly linked to the growth of new infrastructure built in the country which includes verticals such as hospitality, healthcare and education. As more projects are being announced, it will fuel the need for converged systems integration deployment. When it comes to deploying CRM or ERP, we address the small and mid-market segment.
What are the opportunities for an SI in managed services?
You need to be comprehensive and versatile when offering managed services. The ultimate managed service is Software-as-a-Service or Infrastructure-as-a-Service and within that there is a lot you could offer.
It terms of Software-as-a-Service, what does the local systems integrator offer either country wide or regionally? First and foremost, you have to identify which are the services that will imply a local knowledge, understanding and heavy customisation. Some customers opt for managed services because they prefer the pay-as-you-go model. Here, you don't need capex and there is no outright purchase. It goes easy on your cash flow and gives you the ability to scale up and down when required. It also allows for a simpler exit.
The second attractive aspect of managed services is that one can outsource a considerable part of your IT and by outsourcing you can minimise the human resources. And the third aspect is that you will focus on your own core.
What is driving the trend of SIs getting into a managed services model?
I believe what will drive SIs into this business is the technology evolution itself. Today IT systems have been pushed to the edge. Previously we were dependent on laptops, desktops and the entire process power was in the mainframe, today it is different. Increasingly, the flexibilities of the system means that there is not much scope for product differentiation. Same goes for price differentiation. For quite some time now, it has been about the services differentiation. When we speak to the client today, we say the products are similar; however, it is about how much you can get out of this deployment and that depends on who you do this with. It is not just about the knowledge of the product but also about the environment. If you are already differentiating by services then the next step is to ensure they are not tied down to a particular product. We have also been thinking about how we can offer Voice as a managed service to our clients in the future.
Can you elaborate on your plans for the next 12 months?
There is still quite a bit of infrastructure being built in the region which means there is a huge requirement for systems.We are going to be busy doing businesses in UAE, Qatar, Saudi Arabia – there is a lot of infrastructure growth in Saudi. We are looking at a hectic 12 months ahead of us, where we will be deploying these infrastructure across hospitality, healthcare, education and financial institutions.
Also from an ICT systems integration point of view, we are going to be busy training our customer experience solution. We have done extremely well last year with contact centres. Customers in the service businesses such as banking and travel are looking at enhancing their customer services. Equally we are also going to be talking to people on offering the services on a managed services model.