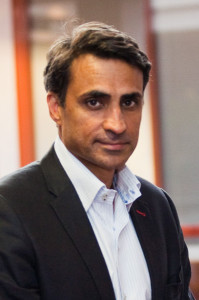 Farouk Hemraj, Director and Co-Founder, DISTREE Events, runs Reseller ME through the new features attendees can expect from DISTREE ME 2015, scheduled to take place from 12th to 14th May, 2015 in Abu Dhabi
The Internet of Technology (IoT) wave has been one of the key market trends since the beginning of the year. Smart solutions have crept into every product category and has opened the door of opportunities for the industry players. Increasingly, we are seeing that the trend is trickling down to the retail level, where retailers are now able to have intelligent one-to-one conversations, armed with a repository of information about each customer.
DISTREE Middle East 2015 aims to reflect the industry transformation and offers a common platform for buyers and retailers to come together and have impactful discussions. In its 11th edition, the event will take place from 12th to 14th May 2015 at Fairmount Bab Al Bahr, Abu Dhabi.
Farouk Hemraj, Director and Co-Founder, DISTREE Events, says, "There will be few changes in terms of technology products, this year. Over the last year, we have observed the growth of some categories while others have slowed down. We aim at bringing answers and helping retailers to move in the right direction. New market opportunities such as smart home solutions and wearables are reshaping the industry."
"IoT is influencing the way the products are sold. We are also observing the digitisation of the retail space where customers can be identified as they walk into the shop. This enables customised promotion opportunities, which will be more effective. Today, there is a whole new area of interaction that is happening between the retailer and customer, not only online but also at the shop level."
Keeping in line with the evolving market trends, attendees of DISTREE Middle East can look forward to new areas – Smart Technologies and Connected Commerce – in this edition.
"Connected products cannot be sold just from the shelf, customers need to be educated. So the question is how vendors, distributors and retailers can make this market happen? This also poses as a threat for traditional retail because in the past, electronics and technology products were sold only to a single channel. Today electronics is invariably present in all sectors from consumer, healthcare, sports to education. To give an example, pharmacies will now become a channel for electronics product though they are health related." The profiles of the retailers are changing now, he adds.
As e-commerce is increasingly gaining market share within the region, it will be an important topic at the event. "We try to bring a perspective of how e-commerce works in other parts of the world and how it can be done here."
The content of the event is customised to each region, by talking to significant players in the market to understand issues and challenges present.
The market is going through many changes, says Hemraj. "There is tremendous pressure on traditional players present in the PC category and we see emergence of several new players in the smartphone arena. This will lead to even higher competition, especially in the lower end. We are trying to reflect these market trends in the variety of vendors that will be present at the event. There will be some new brands from the smartphone category as well."
This year, exhibitors and attendees can keep a track of their scheduled meetings, seminar timings, details of workshops and general information through the event's new mobile app.
"We have tested this in Monte Carlo and it was successful. 85 percent of the participants were using it as compared to the 5 percent we had last year. Everything is mobile now. We have to rethink the way to interact with customers and suppliers through the mobile app."