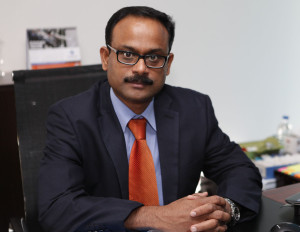 Sunil Paul, Co-founder and COO, Finesse, shares the growth strategy in place for the systems integrator. 
A fairly recent entrant in the regional systems integration space, Finesse commenced operations with a three-dimensional approach, says its Co-founder and COO, Sunil Paul. Crystal clear focuses from a domain, technology and delivery perspective have helped the four-year-old company grow at an exponential rate. Approaching $10 million in revenues, Paul along with Raju Ramesh, Co-founder and CEO, Finesse are determined to reach the $100 million mark in the next six years. Being a pure application software systems integrator, Paul admits it is a big number. But he also has reasons to be confident.
Finesse's forte lies largely in three main verticals – banking and finance, education and healthcare. Paul says, "We are primarily an IT systems integration firm with a strong portfolio in banking. Our three main technology focus areas are BI and analytics, enterprise content management and GRC. And from a delivery stream point of view, we are concentrating on cloud, mobile and social media.
With more than 185 people employed across the region in countries such as Oman, Qatar and Bahrain, it also has a year-old support centre in India and a small-scale operation in Canada.
Paul explains although they have partnerships with all the bigwigs in technology such as SAP and Oracle, the company's strategic positioning is to bring in niche solutions to the region. The systems integrator has seen success with vendors such as Tagetik, Qlikview, OpenText and Metrix Stream.
"Playing niche really works for us. We don't come under the countless ERP companies or the software development ones. It is not that we cannot do it but we want to differentiate ourselves and this is reflecting in the numbers too. Since inception, we have had a growth rate of 50-60 percent year-on-year."
Paul says there is a huge gap between the top layer and the lowest one, and that's where it is trying to position itself. What has further helped Finesse in its growth is the fact that because it emerged during the economic downturn, the company learned to control expenses as the avenues were less at that time. "We actually learned to control our cost. We came out with a structured and cost-effective model," adds Paul.
Consulting used to be an important component of systems integration, but Paul agrees that the traditional consulting business has now reduced primarily because the customers have become better versed with technologies. "However, we do see demand for specialised consulting, it is not about a product or a solution, it is about functional consulting element," he says.
In an era with everything moving to the cloud, how relevant are systems integrators? Paul says, there is a definite role as not every legacy technology will move to the cloud platform. Finesse is focusing on enterprise cloud which comes with multiple models like private and hybrid cloud and a certain level of services is required too. "We also do some cloud enablement like cloud brokering. We have tools and services which enable and change legacy applications to cloud."
Calling itself a boutique company, Paul says Finesse also resells with more than 50 partnerships, all of which are in the applications space. "Only few companies can afford to carry many partnerships like we do. Why we can afford to carry is because we are a true integration company. And as we take up enterprise projects, we need to have many systems in place."
With plans to expand geographically, Paul concludes, "We are growing fast and looking at developing our reach. We will be associated with many events across the globe in the next few months and will work towards our $100 million mark."