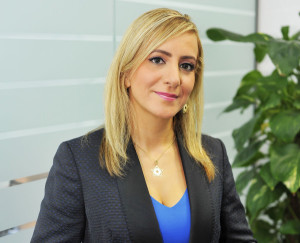 Maya Zakhour, Channel Director, Middle East, Fortinet, elaborates on her key responsibilities in widening the security vendor's regional channel through strategic partners to reach out to a larger market base. 
Fortinet's recently appointed Middle East Channel Director, Maya Zakhour is backed with 14 years of experience in the regional channel space. Having worked from both a vendor and a partner perspective in her previous roles at Microsoft and Dimension Data, Zakhour understands the complexity of the channel environment.
She says, "What differentiates me today is this experience from being on both the sides, which helps me to deliver a better approach. From a partner's perspective we must consider profitability in their business and have people they can trust, which is important."
Zakhour's primary responsibility includes developing strategic partners for the security vendor and hiring more channel managers to recruit new partners to go to market in a larger way. "We are growing in this region in double digits and this means we need more number of strong partners to go with us to the market," she explains.
A Fortinet partner has the opportunity to be classified as a Bronze, Bronze Plus, Silver, Gold or a Partner of Excellence. The benefits and level of discounts vary from one level to another. Through a quarterly business review, partners are measured based on the requirements they meet such as certifications and specialisations. Additionally, channel managers from the company visit the partners on a monthly basis to follow up on the agreed plan and make sure they are on track to meet their targets. Emphasising that certifications are important, Zakhour says channel partners are opportunistic and hesitant to have commitments. "My message to partners is that commitment is a way of organising and securing a specific revenue with a particular vendor, especially when it comes to security."
Once partners are granted access to the partner programme, they are given a username and password through which they are able to navigate all areas such as training, registration, product information, latest updates and even an extensive online training programme from the vendor. According to Zakhour, security being a dynamic field, it is important for channel partners to constantly update themselves with the latest technologies.
"Today Fortinet is known to be a leader in UTM, however my aim is to communicate to the channel partners of our other business strengths. We want to work with our partners closely to make sure they understand our value-add and take it to the market effectively," she adds.
Zakhour is looking at establishing a clear set of plans for each channel and ensuring the right enablement and marketing plans are put in place. While Fortinet's distributors work closely with their partners, the vendor directly interacts with their Gold partners.
Fortinet has a presence in most countries in the Middle East such as UAE, Qatar, Kuwait, Saudi Arabia, Bahrain, Lebanon, Jordan, Iraq, Pakistan and Oman, Zakhour plans to strengthen this further.
Partners look for adequate support and a profitable business from a specific vendor. But low margins and cutthroat competition are challenges the channel is toiling with.  She says, "Today with the prices we offer, our partners can enjoy a good business with us. However, other vendors should realise that tight margins and intense competition in terms of partners bidding on the same opportunities results in partners redirecting their focus in order to make better margins. This is why partners are opportunistic rather than being strategic and developing the market together."
"We hope to change this thought-process once partners see that we have the right tools to enable them and once they see what exactly we can do together in the market. My aim is to make sure we are the number one security vendor in the region and this cannot be done without our partners in the region."