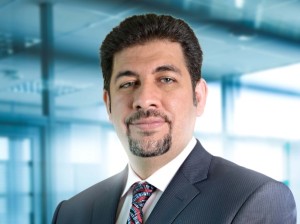 Earlier in the year, StarLink announced 2014 to be the 'year of the channel' at its annual partner conference, which means it plans to invest heavily in the channel eco-system with innovative partner programmes and incentives. And with its tenth anniversary around the corner, the value-added distributor aims to reach the 100 million dollar mark by next year, which is quite doable according to its MD.
Nidal Othman, Managing Director, StarLink says, "Last year, we closed at around 50 million dollars turnover and this year we expect to close at 75 million dollars. We strongly believe the 100 million dollar by next year is doable and we are on track with a healthy pipeline of business."
Since its inception in 2005, StarLink has managed to build a name for itself in the niche security solutions market. Headquartered in Dubai, the value-added distributor is locally present in more than eight countries. With large operations in Saudi Arabia, Qatar, Bahrain, Oman and Kuwait, the company also invested in Turkey last year. It has recently expanded into South Africa and is on the lookout to expand to certain countries in Europe by the second half of the year, where it can add value in terms of distribution, Othman says.
Explaining about the company's channel strategy, Othman adds that being a true value-added distributor, "we will not be existing in the market without our channel. So this year, we decided to make a special programme in order to offer more incentives to our channel. And by doing this, we feel we can offer better business margins to our partners so that they can enhance their profitability, when working with us."
The company's recently launched partner programme, StarLink Choice, aims to reward partner success with targeted sales incentives and marketing programmes. This programme is open to all partners across the META region and covers all the solutions in its core, emerging and growth portfolios, which the company distributes to the market.
"Although we are hundred percent channel-based, we have a high-touch model, when it comes to end user technology that we bring to the market. Because we understand how this technology works, we try to generate the demand awareness in the customer community, which will encourage the business partner to engage with this specific product line."
A new product or technology is usually introduced in the growth product portfolio, where the company spends an average of six months to a year and a half, promoting the product directly with the end user.
Under the growth portfolio, it is a high-touch model from the distributor's end. And in the emerging portfolio, StarLink walks alongside with its business partner and is a medium-touch model, wherein the partners may not want to invest too much and involves StarLink in certain operations such as presales.
"With the core model, we have a low-touch from our side. The majority of products sitting in the core portfolio is driven by our business partner. And we offer them the typical value-add and distributing services from the deployment, presales, support or training engagement. But usually all the core products are channel-driven opportunities. The products in the core portfolio had started in the growth category, and we have taken it to a state where it becomes a commodity product. And this is completely driven by the business partner," Othman explains.
Catering to four main enterprise sectors – banking, oil and gas, telecom and government – Othman adds that education and healthcare are also becoming more focused when it comes to deploying security solutions. "With one of the largest reach, we have managed to stayed focus on security. We have not expanded to other solution verticals, security is what we understand and what we excel in," he adds.
"Our aim is to make security very simple, even to the business partner in order to be able to carry the message to the end-user. I think with this strategy we have managed to change the landscape of distribution," Othman says.