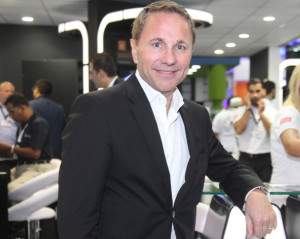 Jean-Loup Desamaison-Cognet, Vice President for Central and Middle East Region, EMEA for Arrow's Enterprise Computing Solutions business, discusses the company's focus points for the region.
Identifying a huge opportunity in the Middle East region, the value-added distributor, Arrow Electronics aims to educate the market on its strengths and value proposition over the next couple of months.
It had used GITEX 2014 as a platform to officially launch the brand into the Middle East region since its acquisition of Computerlinks last year.
Jean-Loup Desamaison-Cognet, Vice President for Central and Middle East Region, EMEA for Arrow's enterprise computing solutions business, says, "We see a huge opportunity in the Middle East region, because it is a fast-growing market. For example in KSA, we have seen a 10 percent growth of the IT investments, which is huge."
We are looking at growing in KSA and will eventually set up an office in that market. Our strategy is to build and grow our portfolio across the region. We are strong in security, infrastructure and networking, and will continue to focus on these areas," he explains.
According to the VP, the growth for the company will come from the various markets in the region, its skills and knowledge, by sharing best practices from other markets and finally by enlarging its portfolio.
"Value-added distribution is about being able to do channel enablement, which is one of our strengths. We are growing faster than our competition because we have the resources, which includes people to support the partner to onboard new technologies of solutions, being able to sell and install them and make them successful. We not only have the resources here but we also have it at a global level to grow those capacities quickly to be stronger. We are also an Authorised Service Centre (ATC) for many of our vendors, which is key for us to deliver professional services and training services among others," Desamaison-Cognet says.
Being a VAD is in the DNA of the company, he adds. The value-proposition the distributor offers to its vendor partners is that it can enable and manage the channel to grow their business. "And we bring our knowledge and expertise about the vendors to our channel partners. We also bring them the relationships we have with the vendors. We also have specific programmes with vendors at a global level," he adds.
Partners and customers alike can expect a number of plans from the distributor in the following months. But the main focus will be to ensure, "Computerlinks becomes Arrow", the VP says. The company will continue to bring in an increased number of services and enlarge its existing product portfolio with the right solutions while also enabling its partners. "Expanding geographically where it makes business sense is also a part of our strategy. Our message to partners in the region is – come and work with us because we can help them to grow faster. We can bring them the right solutions, the right vendors, the right support, the right trainings to develop a profitable business. We can help build a growth strategy."
The company will focus on key growth drivers such as social, mobility, analytics, Big Data, cloud and security in the coming few months along with supporting partners to help grow the business.