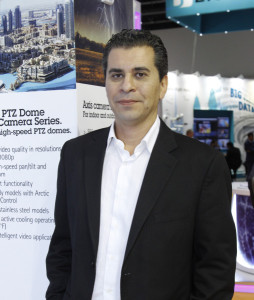 Reseller ME catches up with Marwan Khoury, Marketing Manager, Middle East & Africa, Axis Communication, at Intersec 2015, to discuss trends in the market.
What is your focus at the event this year?
The focus remains on building the company around innovation and developing our channel partner programme. We continuously offer new cameras and new products. We launch about 30 cameras a year on an average. At Intersec, this year, we have showcased some of the latest ones. We also had our 4K solutions on display as well, 4K is the future of the industry in terms of not just the image quality but also the image usability. Today, it goes beyond the traditional security solutions and caters to all the stakeholders within the various industries such as banking and retailing. Customers are using the information they are gathering to provide their end users with a better offering. This is where stronger analytics play a role. 4K will be driving the industry towards that direction.
How is the region adapting to these emerging trends?
The region, overall, is growing at a dramatic rate. We are growing faster than any market in the world. We are achieving around 25 percent growth. The UAE, for example, is among the highest adopters of IP technology in the world. There is always a strong demand here. Both public and private sector organisations are making the right decisions, in terms of investing in the right technologies.
How are you enabling your partners to sell these new products effectively to the market?
We don't go directly to the market, we go through our distributors and systems integrators. We have a channel partner programme. What we offer our partners is education. We ensure that before they partner with us, they must be certified. Also, we make sure we provide the appropriate training and we always work with them so that they can grow into the higher-tiered partnerships such as silver and gold, where we depend on them to represent the brand to our customers. We empower them through the right education and follow up, in order for them to be well positioned in the market. And events such as Intersec play a big role for us in terms of attracting new partners.
Do you see partners understanding the importance of certifications?
Being certified is a prerequisite to enter our programme. And if they do not pass a course with us then they cannot be our partners and that's how we are protecting the end customers, by ensuring the right partners are on board.
What are some of the trends in video surveillance?
Analytics is becoming a big factor right now in this market. When there are such high-quality images, customers are discovering that there is so much more that they can do. For example, on the retail front, traditionally we have had the on-board camera analytics where it does the people-counting. But now, marketers and merchandisers are using it to understand end-users' habits and preferences better. Bank customers are also seeing the benefits. It is beyond just security now. Companies are working with partners who are traditionally security based. And we will still continue to base that as our priority but we are also looking into other avenues as well, as the technology is strong and diverse.
What is your business focus for 2015?
We have various segments, which we traditionally focus on, but retail still continues to grow rapidly. Banking is becoming very important for us. There are general critical infrastructure such as city surveillance, while we also see opportunities in education. We are growing at a rapid pace. We have opened an office in Qatar recently and we are hopefully looking to open a couple more across the region in this year.