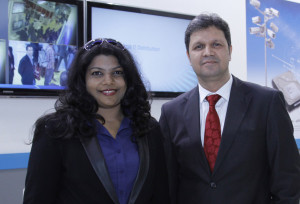 SNB IT Distribution is broadening its portfolio and market strategies to ensure steady growth all around.
SNB IT Distribution has been growing steadily over the last year with a number of significant vendor partnerships and other developments. The distributor announced new partnerships with Pelco and Tripp Lite at the security trade show, Intersec, held last month.
Sonia Sebastian, Director, Security Systems, SNB Middle East, says, "Both these vendors are well positioned in the market. Historically, we have had 'push' products in our portfolio. But with these partnerships, we now have an edge over the market with 'pull' products. We have received tremendous support from the vendors."
The Pelco partnership extends to the UAE and Oman markets, while KSA, Qatar and other regions are in discussions. The distributor will deliver Tripp Lite solutions to the whole Middle East. The company is working towards enhancing its warehousing facilities in Qatar and KSA this year.
"This will be a big focus for us in 2015. We want to introduce our warehousing capabilities to the market. We will get into the traditional distribution mode along with the value-added services. Our strategy is to focus on turnkey solutions while providing every complementary product to make the offering a comprehensive one. And beyond that, we will support our partners with local product delivery and other requirements.
"It is going to be a one-stop destination for any of our partners. We are looking at a comprehensive suite. We will always work with our partners."
At the trade show, the company's focus continued to be on the security and surveillance market. Sebastian adds, "As we have a focus in surveillance, we have several Extra Low Voltage (ELV) partners that we like to host."
SNB IT's recently appointed CEO, Munaf Chouguley, adds, "Last year, we had a good turnaround that has helped in building up the ROI for the entire year. This year also, we are expecting the same. We have had a 45 percent year-on-year growth in 2014."
According to the CEO, the plan for 2015 is to have "growth all around". "We are trying to expand a bit more not only on revenues but also on complementary products. We are also enhancing the number of people in each territory. Today, in Qatar we have three people and in KSA, we have about five, including the local technical presales support, which is very important on any project. This is how we plan to go forward with our overall goal of carrying out turnkey projects."
In the coming months, we will hear a lot more from the distributor on the vendor partnerships front. Partners can look forward to territory-specific events where they will be briefed on the distributor's warehousing facilities and other business plan information.
Headquartered in the UAE, SNB IT Distribution currently has operations in Qatar, KSA and India.