In an exclusive op-ed for tahawultech.com – Dr. Abrar Ullah, a professor at Heriot-Watt University Dubai, has called on the forces within the IT industry to completely reimagine the way they think about transforming IT infrastructure.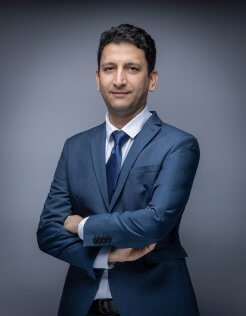 Following decades of technological innovations, the IT industry has witnessed major changes in the past few years.
Currently, with digital transformation taking center stage, the importance of IT infrastructure resilience and efficiency has become more important than ever before.
According to Mordor Intelligence, digital transformation is expected to reach $767 billion by 2026 and work at a growth rate of 19.48% over the forecast period 2021-2026.
IT infrastructure covers data centers, IT security, communication networks and end-user technology services. It is an essential foundation, if not the main one especially in today's market, for a company's business strategy.
Not only is the IT infrastructure required to manage unprecedented scope and scale of data, but it must also be agile and flexible.
Contrary to popular belief that IT infrastructure transformation means the latest hardware and software, or cloud provider, resource and budget efficiency is its most important function.
Having the right technology is important, however, the picture is far more complex.
According to Kearney, global management consulting firm, excessive costs, limited innovation, weak performance, high turnover, lack of flexibility and management are among the top challenges within the IT industry.
This can incur significant costs and compromise the ability of companies to meet the evolving demands of the digital age.
Meanwhile, sophisticated infrastructure can not only enhance internal output and productivity, but it can also strengthen customer experiences and engagement, and lower costs over time.
In this backdrop, Dr. Abrar Ullah, Associate Professor at the School of Mathematical and Computer Sciences, Heriot-Watt University Dubai, discusses the ideal conditions that help modernize the IT infrastructure and support its efficiency to suit the demands of the digital age.
Establish User-centric approach
The most important question that organizations should always consider is, what does the IT infrastructure enable?
Often, the answer would revolve around enabling the efficiency of users.
Having a user-centric approach to the IT infrastructure is key.
The IT system can have the most advanced software and cloud provider, but if it's not user-friendly, companies will not have the gains they expected.
Besides fulfilling user requirements, systems should be efficient, effective and provide satisfactory and pleasant user experience.
The lack of a user-centric design and a comprehensive design system that outlines touchpoints, user interactions and data flaws inhibit the efficiency of the IT infrastructure.
Uncertainties that arise from partial information availability and algorithmic errors can be resolved by adopting an integrated design approach that clearly addresses the entire technological process of an end-to-end IT ecosystem.
Implement Cloud Computing
One of the many benefits of cloud computing is its attractive financial model, configuration management and availability.
Not only do companies pay substantially less up-front costs for capital investment, but cloud also resolves the burden associated with continued ownership by outsourcing the management and delivery of those services to a third party.
Therefore, the flexibility it allows, and the ease of scalability enables businesses to expand or contract their use of IT resources based on their need.
Additionally, critical services such as cloud maintenance being handled by third-party providers significantly frees up the time of IT personnel, who can focus on more pressing tasks including building better applications, and internal data management services.
Have a clear leadership strategy
IT infrastructure has evolved from supporting applications and work on-premises to "everywhere infrastructure," in data centers, in the cloud, and other combinations.
With this transformation, infrastructure and operations leaders ensure enough flexibility and agility to respond to these changes.
In order to gain competitive advantages in market opportunities to satisfy business demands, it is imperative that a clear and agile leadership strategy addressing decentralized operation is in place.
This requires coordination among business and IT leaders through ways including a business impact analysis to establish the right priorities based on the importance of specific products and services.
IT leaders should also create an end-to-end linkage between business products, applications and infrastructure by aligning the inventory of all IT infrastructure components and underlying costs.
Finally, companies should enable constant adaptation to changing market priorities, evolving strategies, and new technologies.
Overall, the most important element of IT infrastructure transformation is reducing the time spent on daily IT maintenance through deploying cloud services and having an aligned business strategy.
To achieve digital transformation, IT leaders should keep in mind that their department's role has shifted to a more pivotal role, one that enables new custom practices and workflows.
Digital transformation will enable companies to engage better with their customers, run business more efficiently and enter new market processes