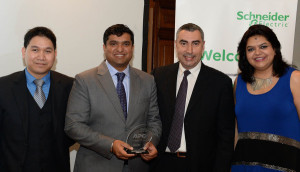 Logicom, a regional distributor was awarded the 'HBN Distributor of the Year 2013' at this year's APC by Schneider Electric's EMEA Distributor Conference in Greece. In addition, Logicom also came home with APC by Schneider Electric's 'Product Manager of the Year 2013.'
These honors were awarded to Logicom for exceeding its targets for HBN, the single phase UPS product range for APC; and to Logicom's APC Product Manager for maintaining a good product mix, increasing APC's market reach, and overachieving the targets for 2013.
According to Srijit Nair, Logicom UAE's APC Product Manager, "This award from APC signifies our continuous efforts to address the growing SMB and SME markets. As a value add distributor, we remain committed to providing the necessary presales support to assist our channel partners, as well as readily available products where and when they need them."
The annual conference, hosted by APC by Schneider Electric brings together distributors from Africa, the Middle East and Levant Regions, and Pakistan. Held at the Intercontinental Athenaeum in Athens, the event included presentations by APC's Regional VP and various product and service leaders, as well team building activities for all the attending partners.