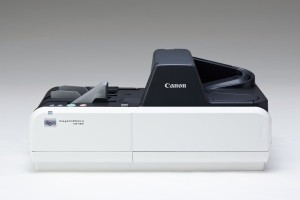 Canon Middle East has launched the imageFORMULA CR-190i UV cheque scanner with the capability to capture UV ink. With the new device, retailers, banks and financial institutions can identify fraudulent documents and ensure payments are processed with greater security, says the company.
This is because, it is equipped with both a traditional RGB light source and a UV light source. It captures standard and UV images, such as company logos or other proofs of authenticity printed with UV inks, in a single pass to help avoid counterfeit cheques being processed. The imageFORMULA CR-190i UV also improves fraud detection by helping to detect if any details or sensitive areas of a cheque have been tampered with. This can equally be applied to the processing of vouchers and coupons, where cheque scanners are often used.
Hendrik Verbrugghe, Marketing Director, Canon Middle East, said, "With almost two-thirds of organisations worldwide having experienced payment fraud and 87 per cent of those stating that cheques were involved, these businesses require cutting-edge technology that helps them to verify cheque payments and process them securely. Canon's new imageFORMULA CR-190i UV meets this demand through its capability to capture UV inks, helping to protect organisations against fraud."
Extending Canon's range of cheque scanners, according to the company, the new CR-190i UV is one of the fastest compact cheque scanners on the market processing up to 190 cheques per minute (160cpm in UV scan mode). It also includes innovative document handling technology and advanced image processing tools for accurate and efficient scanning.
The existing imageFORMULA CR-190i cheque scanner will continue to be available alongside the new CR-190i UV and both models include Scanning Utility software and a Ranger driver. Also included are ISIS and TWAIN drivers which allow organisations to use the devices across a broad range of scanning applications. Various software development kits are available on Canon's cheque scanners enabling solution providers to create customised scanning applications for their customers, adds the company.