Name: Middle East Manufacturing & Technology Expo
Dates: 12 – 14 September 2022
Location: ADNEC, Abu Dhabi, UAE
Timings: 10:00 AM – 4:00 PM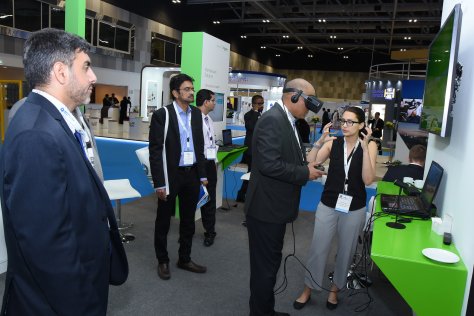 We invite you to join us at Middle East Manufacturing & Technology Expo (MEMT) to be held between 12 – 14 September 2022 at Abu Dhabi National Exhibition Centre (ADNEC), UAE. The event will witness participation of some of the biggest international and local businesses that are key players in the fourth industrial revolution. The co-located event, Middle East Design & Build Week will present latest technologies and innovative solutions in the construction, building and design spectrum.
Organised by Abu Dhabi Chamber of Commerce & Industry in partnership with CONNECT, the events are supported by prominent trade and government bodies such as Abu Dhabi Department of Tourism and Culture as Destination Partner, Ministry of Industry & Advanced Technology as Host Organisation, ADNEC as Venue Partner, Ministry of Economy, and UAE Chambers.
The highly anticipated events are aligned with the government initiatives of bolstering the manufacturing and technology industry. The national-level initiatives such as 'Operation 300 Billion', 'Make it in the Emirates' and 'Made in Abu Dhabi' are all focused towards providing an impetus to drive the manufacturing and industrialisation segment. With an aim to further stimulate and facilitate trade, the events are expected to deliver a rich forum for the industry to convene and foster business in a unified approach.
Middle East Manufacturing & Technology Expo and Middle East Design & Build Week will serve as excellent platforms for business growth and set a new benchmark in the development of the industry. The three days of the events will also provide rich insights into market trends and current outlook of the manufacturing, industrialisation, technology, construction, and design industries in the form of series of informative workshops and panel discussions. Some of the key subjects covered in the Manufacturing & Tech Talks Workshop will be the "Make it in the Emirates" strategy towards localising industrial development, the manufacturing market outlook, the development of SME manufacturers, workforce for the future, financing manufacturing sector, and Lean Management in manufacturing addressing reducing cost, increasing quality control & functionality.
With single registration, attendees will be able to attend both the events for free, thereby benefiting from wide opportunities to learn and explore solutions in the manufacturing and technology as well as construction and design sectors. To register online and secure your e-badge, visit https://bit.ly/3B0XmmV
For more information, visit https://memanufacturingandtechnology.com/visitor-registration