Kodak Alaris has launched two wireless desktop scanners to "support BYOD and mobility in the workplace."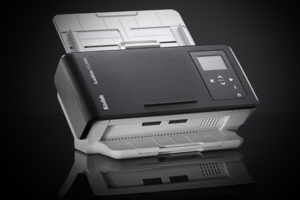 The Kodak ScanMate i1150WN and the Kodak i1190WN Scanners follow the desktop family of 40 page-per-minute Kodak i1190 and i1190E Scanners.
The scanners are said to offer "superior speed and data capture accuracy for multiple document types," which Kodak hope will make them an "excellent solution" for loan origination, case management, HR onboarding, accounts payable/receivable, and records management, among other applications.
These new, wireless scanners are designed for environments where employees need to quickly and easily share document capture devices. Additional features including colour coded icons and custom commands aim to improve the speed and ease of scanning for users.
Equipped with standard drivers (TWAIN, ISIS), users can integrate these with their existing and legacy business applications, whilst IT administrators also have the ability to set security levels and disable wireless and mobile if needed.
"Most wireless scanners are fine for individual users but they are not designed for sharing in a workgroup or connecting with business applications," said Susheel John, Worldwide Category Director, Distributed Capture, Kodak Alaris Information Management. "Our Wireless/Network Scanners offer the flexibility and versatility that users need to manage complex document processes. They also provide integration capabilities that allow organisations to invest in new software and applications to address the evolving needs of their business, while meeting the needs of legacy applications today."