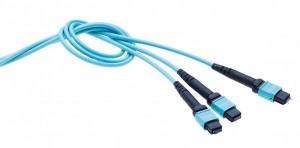 R&M on Sunday announced that it had upgraded its entire range of fibre optic cables for data centres to bend-insensitive multimode fibre (BIMMF) standards.
R&M claims that the new systems will deliver "unrivalled" port density, reliability, modularity and ease of installation with the most efficient use of space.
"Organisations striving to be more agile are incorporating new means to offer on-demand services to their employees. This push for greater connectivity is resulting in an increase in the number of ports in data centres, which are already stretched to their limits," said Jean-Pierre Labry, Executive Vice President, R&M Middle East, Turkey and Africa.
"Consequently, cabling has to be densified in order to ensure these demands can be accommodated. R&M has devoted considerable attention to the pressing needs of data centres, which why we are overhauling our range to BIMMF standards."
R&M's new range for data centres consists of Type S MTP modules, MTP adapter plates, HD panels, MTP trunk cables and patch cords. The vendor said that it would deliver the Type S MTP modules pre-terminated to enable simple handling and quick assembly, and that all components are subjected to stringent, 100-percent factory testing.
The new solutions have also been developed to be easily integrated with the R&M inteliPhy Automated Infrastructure Management (AIM) solution, which will soon be launched in the Middle East. This will automate the administration and monitoring of numerous connections in the data centre, simplifying network managers' tasks.
"R&M always incorporates a forward-thinking approach in every product design. Features such as easy patching, colour coding and the ability to exchange modules or use the same modules and patch cords at both ends aid the installation process," said Shibu Vahid, Head of Technical Operations, R&M Middle East, Turkey and Africa.
"Simplified installation means a much lower risk of human error and therefore lower downtime in the long run. We have also made sure that the same systems can be extended to 40GbE standards without having to rebuild the network."