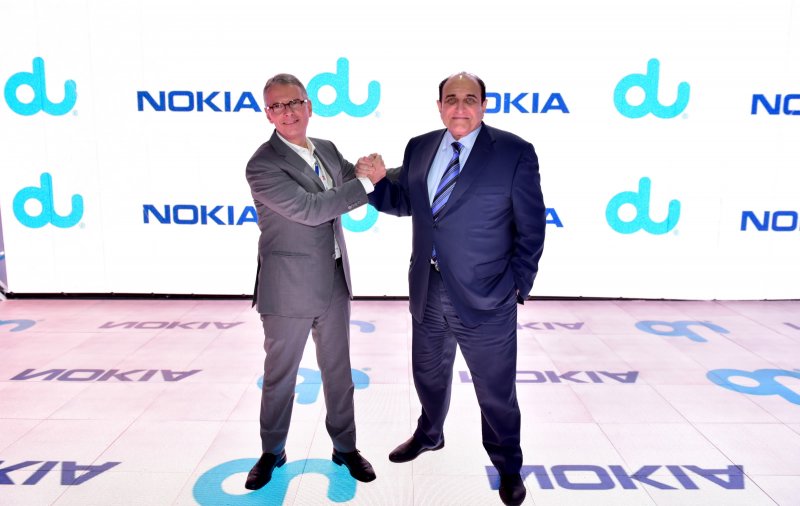 Nokia and du, from Emirates Integrated Telecommunications Company (EITC), have signed a Memorandum of Understanding (MoU) to collaborate to help drive innovation and entrepreneurship among the youth.
The initiative, according to both parties, will enable the youth through key public and private institutions, including universities, to better understand and leverage technological trends and their impact.
The collaboration will help drive innovation and entrepreneurship to support the government in creating more sustainable living and making the UAE the best country in the world in line with the goals of UAE Vision 2021 and the UAE Centennial Plan 2071.
"The initiative provides a great opportunity to the youth of the UAE to develop expertise in new technologies such as Blockchain, 5G, Big Data analytics and Internet of Things, among others," said Osman Sultan, CEO, EITC.
"The collaboration also allows the talented participants to put the theoretical topics to practical use and to benefit from the opportunity to visit Nokia Bell Labs and research centres. We look forward to partnering with Nokia to further the goals and objectives of UAE Vision 2021 and the UAE Centennial Plan 2071."
Nokia and du will help drive the UAE's smart future by encouraging the youth to contribute to digital transformation. The young talents of the universities and other institutions will get an opportunity to understand and benefit from the latest global technology trends which are bound to shape the future. The participants of the programme will also benefit from hands-on training and certification on Nokia's innovative products.
Amr K. El Leithy, Head of the Middle East and Africa Market, Nokia, said, "We are honoured to collaborate with du in contributing to the realisation of the UAE vision, both in the near future as well as in the long term. We believe that this collaboration will help foster innovation and entrepreneurship among the young talented people, which in turn will help in the development of technology solutions specific to the UAE's future challenges and opportunities. Advancement of innovative solutions demands fresh perspective, and working with the young and bright talented people will allow us to realise the full potential of the new technologies."
In addition to the MoU, Nokia, in partnership with du, recently presented its insights to participants of The UAE Government Leadership Program to help achieve the objectives of the UAE government's vision.