Avaya makes big announcements on cloud, new technology innovations, and its partner programme, Edge, as it seeks to energise its channel for the coming year.
Avaya is looking to innovate, transform, and grow in value and relevance to its channel partners this year. That's the main message the company's channel chief told more than 450 channel partners, systems integrators, technology partners and distributors who converged on Dubai this week for the first Avaya Partner Summit of the 2019 financial year.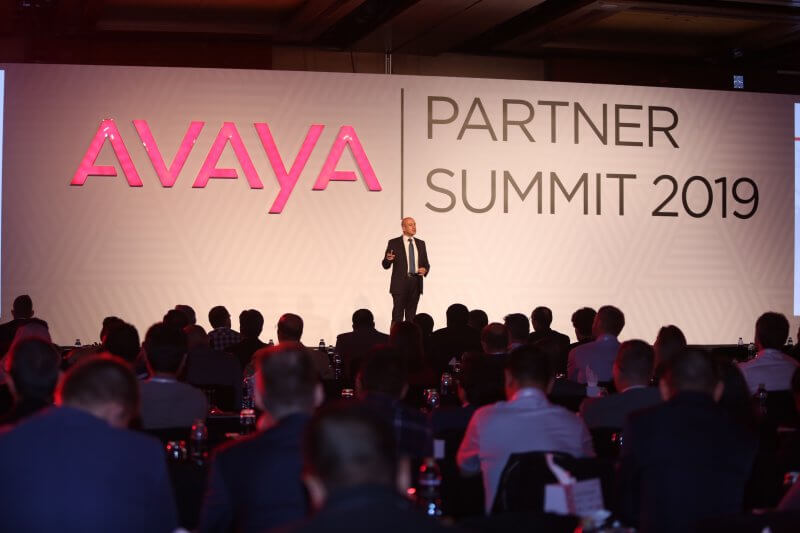 Speaking at the Summit, Fadi Moubarak, Vice President – Channels, Avaya International, made a number of big announcements at the event, which built on the successes that the company enjoyed during 2018. The year saw Avaya's channel partners grow their business with the vendor, and the introduction of a program that provided better partner incentives, greater flexibility to grow and respond to emerging market needs, and bigger investments in channel training.
For 2019, Moubarak said that three key points were driving the vendor's channel strategy.
The first is an intense focus on the cloud, whereby channel partners will be given greater opportunities to sell Avaya's UCaaS and CCaaS solutions.
The second is a greater emphasis on solution and application selling, shown at the conference through a number of vertical-specific use cases based on Avaya's platforms, bringing the Avaya ecosystem of partners to life.
Finally, Moubarak pointed towards the new technology innovations that Avaya plans to launch in the coming year as an example of the new growth opportunities that Avaya partners can expect to leverage in 2019. He said that Avaya's approach to innovation represented a "cultural shift", with the vendor aiming to provide a "singular experience" across both the customer experience and the enterprise experience.
"These new measures will provide a path for channel partners to move from one value proposition to more advanced ones – from box-shifting to solution selling; from solution selling to innovation building; and from innovation building to enabling true business transformation," Moubarak said.
Avaya's cloud announcements at the Avaya Partner Summit were noteworthy. The vendor announced the Avaya Cloud Private (ACP), which enables channel partners to sell customised UCaaS and CCaaS solutions to larger customers who want more than base-line functionalities. Thanks to ACP, any Avaya partner can now sell private, public or hybrid cloud solutions, as well as traditional on-premise products for enterprise customers, and based on a phased deployment roadmap.
ACP completes Avaya's cloud portfolio so that there are now offerings at every level. Channel partners who are looking to grow their businesses with Avaya's cloud offerings can now do so – whether they're just starting to offer cloud-based products, or are experts in the space. From mid-market, off-the-shelf options to highly customisable private cloud deployments, there is now something for everyone.
Moubarak also announced updates the Avaya Edge Partner Program, which he said would encourage solution and application selling among partners. Over the course of 2018, Avaya's investments in technology partnerships has paid dividends, meaning that fully formed solutions are now available on Avaya's platforms and, crucially, to its channel partners. Moubarak said that these products, developed through the vendor's DevConnect and AI Connect programs, provide partners with vertical-specific, readily integrated solutions that can be more easily deployed.
"We're actively empowering our channel partners to provide holistic solutions to their customers," Moubarak said.
But he also pointed out that Avaya's open platforms are creating opportunities for innovation-minded channel partners, too. He highlighted several partners who had developed their own innovative solutions on top of Avaya's platforms to solve genuine business problems for their customers. He said that Avaya would commit to continue rolling out tools and APIs that enable channel partners to "take the lead on innovation".
To that end, Moubarak revealed that, in 2019, the vendor will be demonstrating how it has endorsed the API economy to its fullest potential. Firstly, it will continue to enrich the capabilities of its own APIs and SDKs. He said that Avaya's own APIs would provide simplicity and speed in integration, and Avaya's client SDKs would provide simplicity and speed in customisation. Secondly, Moubarak announced, Avaya would be launching a series of APIs on the Avaya CPaaS, that provide interfacing functionalities with leading social platforms so that customers and partners can accelerate their innovations and go to market more quickly.
Moubarak also announced updates to Avaya's thriving range of hardware devices, dubbed the Avaya Desktop Experience. Along with a brand-new range of Open SIP devices, which brings Avaya's market-leading hardware to users of any UCaaS platform, he made reference to updates to the award-winning Avaya Vantage range, which brings consumer-grade, mobile experiences to the enterprise desktop.
With these announcements, Avaya is going from strength to strength – and by extension Avaya's partners are sharing in the growth. Last year, Avaya partners earned rebates increased by 250 percent in FY18, and there was a 159 percent increase in the number of partners who had seen more than 10 percent growth.