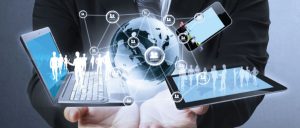 du, from Emirates Integrated Telecommunications Company (EITC), has announced a new video contribution solution in partnership with Telstra, a telecommunications and technology company. The partnership will provide MBC in Dubai with dedicated and fully managed video network service on the Telstra Global Media Network to facilitate reliable and high-quality video streaming to Europe, said the firm.
The Telstra Global Media Network is a worldwide highly resilient network built on a four fibre path system. The service is specifically designed for the seamless delivery of video content utilising the latest technologies. The flexible solution is monitored 24×7 to guarantee the highest levels of service and minimise any interruptions.
Hany Aly, executive vice president, Enterprise Business, du, said, "Dedicated video solutions for moving content are gaining traction as they allow higher video rates and flexibility in terms of permanent or occasional use. du is increasingly trusted to distribute live content, because we always ensure our solutions are customised for specific needs to maintain the highest levels of quality. Our distribution network offers quick, simple and reliable access to the widest possible range of distribution options, across multiple platforms."
Andreas Eriksson, acting head, Telstra Broadcast Services, said, "We are delighted to add du and MBC in Dubai to the Telstra Global Media Network, extending our network capability in the Middle East. We have worked closely with du to add significant value for MBC with this expansion, as well as enabling the creation and delivery of new services in the future. MBC will benefit from our simple, global and seamless solution for content distribution, allowing them to create new revenue streams in a more efficient and faster way."
Nader Mokhtar, director of MCR and Broadcast technology in MBC, said, "We have designed and engineered the video solution with du/Telstra based on our experience, to avoid any single point of failure and to have a redundancy across all levels, fiber cables as well as any equipment along the different paths. In addition to monitoring points at each stage".