CNME Editor Mark Forker was an attendee at the recent Huawei Better World Summit (BWS) 2021, to find out how the global ICT leader is championing and pioneering new technologies that are designed to help global carriers and industry partners to unlock the value of 5G+AR.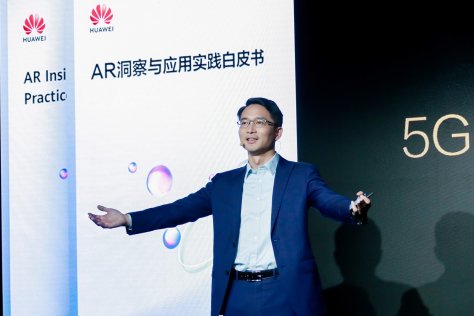 Huawei is known for developing some of the world's best technologies and is fuelling innovation in the digital economy on a global scale – but it is also renowned for hosting first-class events – and their recent BWS event did not disappoint.
Attendees heard from several key IT and technology thought-leaders in relation to the seismic impact that 5G+AR is going to have on the innovation ecosystem. According to Huawei and third-party data, by 2025, the AR industry will create an industry generating $300bn.
The primary objective of BWS was to explore and further examine the incredible opportunities that are presented by 5G+AR, and the first speaker of the event made a case that if 5G+AR is leveraged properly then it can power the development of cities across the world.
Mr. He Chengjian, Director of Shenzhen Communication Management Bureau, said it was imperative that cities find new ways to leverage new infrastructure – and declared that Shenzhen had always been a city that embraced IT technologies and is a hub for innovation.
"Shenzhen is firmly dedicated to providing an enabling business environment for the 5G+AR industry. By the end of last year, Shenzhen had deployed 46,500 5G base stations. Shenzhen has been ranked as the best 5G network by the MIT of China. We look forward to seeing the values created by 5G+AR and we welcome different players to contribute to the ecosystem here in Shenzhen. We would like to work with all the partners, both upper stream and lower stream so that we can further encourage the convergence of 5G and AR", said Chengijan.
Attendees then heard from David McQueen, Executive Director of Strategy Analytics, Head of Augmented Reality Research, who outlined his vision of the future of AR and the benefits that AR and 5G combined can yield for carriers, consumers, and society in general.
He highlighted the importance of a robust 5G network to support the connectivity needed for the proliferation of 91 million AR devices by 2026 – and illustrated how AR can deliver real value for society.
"For good connectivity and a rich experience, 5G networks will be very important for AR devices. 5G positioning can work indoors. So, for the consumer market, it can open up other use cases such as the augmented shopping experience in the mall. AR also brings values to society. This is an area where we have seen carriers create early partnerships and mobility has been a key feature of this. Ambulance crews are already benefiting from AR today. This can be vital for saving lives. In statistics shown by the British Red Cross, only one-third of trauma patients unfortunately die before reaching the hospital. Of those, a third is preventable. AR technology combined with 5G can help improve these statistics", said McQueen.
We then heard superb presentations from Huang He, Chief Producer of Shenzhen TV Station, who spoke about the impact 5G+AR is having on broadcasting and revealed that AR is being used in news and weather programs, Wei Rongjie, CEO of Realmax, documented the journey from human evolution to AR glassed and 5G, and claimed he believes AR headsets and glasses will become mainstream and create new experiences in our increasingly digital world.
In addition to this, Hiroshi Fukada, meleap CEO, and Liang Jinhao, Representative of HADO China Region, delivered fantastic presentations, which outlined the revolutionary role AR+5G is going to play in completely transforming how young people work out and think about fitness, training, and sport.
Next up was Fu Jie, Executive Director of Shenzhen AR Association, who delivered a keynote presentation that focused and examined in forensic detail where the AR industry was heading.
He declared that the commercialization of 5G networks was a key factor in the success and phenomenal growth of the AR industry, and as more and more countries roll out 5G network this will only serve to accelerate even more growth in the AR space.
"We know that 5G can empower AR and the combination of the two can bring a better life to us. We know that the large bandwidth of 5G connections can deliver content to our users faster and such features can unleash the potential of multiple industry applications. Our goal is to enable different industries – and we want to work with mobile operators for deeper cooperation, and we would also like to see carriers enabling AI, so different parties need to work together and complement each other so we can achieve a thriving industry", said Jie.
Bob Cai, CMO of Huawei Carrier BG conducted the final presentation of the session entitled 5G+AR Turns Dreams into Reality and Makes Lives Better.
During a wonderful presentation, he highlighted how Huawei leveraged the capabilities of AR to respond to challenges facing their customers during the COVID-19 pandemic.
"Over the last year during the global pandemic, overseas customers could not meet Huawei to have face to face communications with us. So, we made use of online technology and AR to showcase our latest products and solutions to tour overseas customers, so they would have a better understanding of our latest products and solutions. In addition to this, our network deployment was met with several challenges. Every visit to a physical place, inevitably meant increased exposure to COVID. The traditional delivery model was not efficient, which would require multiple site visits. So, during the pandemic, we made use of AR so our field engineers could see very clearly which port the cable should go to – and efficiency was significantly boosted and 5G base station can be delivered much faster, but importantly during all this, the risk of contracting COVID was reduced and people could stay safe", said Cai.
Following the conclusion of the presentation at BWS, Eric Zhao, Vice President of Huawei CNBG Marketing and Kevin Xu, Vice President of the Huawei CNBG Marketing Demand Program chaired questions from a team of reporters from all around the world.
As the Editor of the leading B2B IT and technology magazine in the Middle East, CNME was allowed to put a question to Huawei executives and the question was about what 5G+AR means to operators and whether an investment in 5G will be worth it.
Kevin Xu gave me the following response, "We know the features of 5G can deliver the requirements of AR. For example, 5G connections feature large bandwidth, low latency and high mobility. This can meet the requirement of AR, but we still need to improve the coverage of 5G. Because AR demands the boundary between the physical world and virtual world to be dissolved. This is to say, AR requires the bandwidth of the network to be large enough and the latency to be low enough. Only when people can enjoy AR on the go can we see the budding development of applications and use cases. This is to say, 5G plays a significant role in the development of AR. After hearing the presentations of our speakers, we have learned that 5G and AR together will bring new applications in multiple sectors including gaming, shopping, traveling, education, and social networking. And all of these applications will definitely bring benefits to our users", said Xu.