Adam Xiao, Managing Director, HMS and Consumer Cloud Service for Huawei Consumer Business Group MEA spoke to CNME Editor Mark Forker about the capabilities of their new HMS Core 6.0 offering, the security features of its AppGallery – and the role Huawei is playing in terms of empowering the startup ecosystem in the UAE.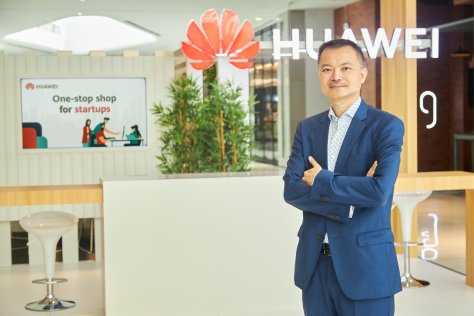 Can you outline to our readers some of the unique capabilities presented by the recently launched HMS Core 6.0, and how has it made more user friendly from the perspective of a developer?
HMS Core 6.0 is a truly innovative update that is transforming both Huawei and Android users' experiences. At Huawei Mobile Services (HMS), we ensure that our technological advancements align with our overarching 1+8+N strategy committed to providing Huawei users with all-scenario smart life solutions.
Through HMS Core 6.0, developers can benefit from a range of capabilities, including kits that support the launch of Web apps, Quick apps, on Android and Huawei Mobile Services for multiple devices including mobiles, tablets, displays, wearables, and more.
The start-up ecosystem here in the UAE is going to serve as the backbone of the new digital economy – and drive future innovation and growth. However, can you outline to us how Huawei Mobile Services is leveraging their knowledge and expertise to help start-ups position themselves for future investment by giving them access to your technical support and toolkits?
At Huawei, we strongly believe in the power of an idea and the potential it holds to transform the technology scene in a heartbeat. Guided by this, we always ensure that we are at the forefront of fostering start-ups worldwide.
Huawei runs several global initiatives that support developers, including our flagship event, Huawei HMS App Innovation Contest (Apps UP), a competition designed to identify, celebrate, and on-boards digital innovations that have a societal impact.
In addition, we conducted HUAWEI Innovation Week in partnership with the DIFC Innovation Hub. The kickoff event featured a day packed with on-site Huawei workshops, along with tips and tricks to integrate Huawei Mobile Services toolkits into mobile applications easily. The HUAWEI Innovation Week featured virtual workshops to train attendees on coding and unlocking access to a unique, untapped audience via proprietary platforms.
Huawei also offers developers access to a plethora of training courses online as well as a rich global community of 5.1 million registered developersore than 165,000 applications are integrated with HMS Core worldwide.
Furthermore, through Huawei applications such as Petal Maps and Petal Search, we aim to support businesses like food outlets, taxis, hotels, e-commerce platforms, and other local and international services to scale their business and user base.
Can you provide our readers with more information on the Huawei HMS App Innovation Contest (Apps UP) which is the flagship competition for mobile app developers globally – and detail what benefits and opportunities can be yielded for developers that enter Apps UP?
Huawei HMS App Innovation Contest (Apps UP) is a global contest for mobile application developers. Developers and coders worldwide are welcome to innovate, digitise, and create seamless smart experiences for everyday users, and submit these as competition entries.
Registration for the 2021 edition concluded on 5th September 2021, and judges have shortlisted winners from eight contest categories: Best App, Best Game, Best Social Impact App, Excellent Student Award, Tech Women's Award, Best HMS Core Innovation Award, Honorable Mention, and All-Scenario Coverage Award.
By entering, participants immediately get access to a community of 5.1 million registered developers, industry experts, and ultimately, the opportunity to get their apps featured on HUAWEI AppGallery, with instant access to a pool of more than 700 million Huawei mobile device users.
The competition is divided across five geographical regions, with up to US$200,000 in cash prizes earmarked for the Middle East & Africa (MEA) region alone.
We recently announced the top 20 regional shortlisted apps. We are incredibly pleased with the strength of the submissions, as it reinforces our belief that there is a large talent pool within the regional developer community that can contribute positively to the digital ecosystem when given the opportunity.
Many industry analysts have praised HUAWEI AppGallery offerings by highlighting how it gives an exciting and broad range of options to its customers, but can you provide us with more on information on HUAWEI AppGallery?
HUAWEI AppGallery is Huawei devices' flagship application distribution platform available in more than 170 countries and regions, with over 560 million monthly active users. Since its launch in 2018, we recorded 384.4 billion total downloads from HUAWEI AppGallery by the end of June 2021.
HUAWEI AppGallery guarantees application security through mechanisms such as developer real-name authentication and four-layer security detection. The self-developed Volt Algorithm also accurately recommends content for users.
The platform has a full-cycle security and protection system, including developer real-name verification, a four-step review process, download and installation protection, and a prevention mechanism for secure app operation. HUAWEI AppGallery also implements a global age rating system that blocks non-age-appropriate content according to user settings, to ensure a safe and healthy environment for underage users.
HUAWEI AppGallery offers a wide variety of global and local apps across 18 categories, including navigation & transport, news, social media, and many more.
What are your primary objectives and goals as the Managing Director, HMS and Consumer Cloud Service for Huawei Consumer Business Group MEA for the remainder of 2021, and looking ahead to 2022 in terms of strategy and growth?
As the Managing Director at HMS, it is my duty to strategically guide operations towards a successful 2021. One of our key goals is ensuring that products such as HUAWEI AppGallery are expanding their pool of audience and developers. Additionally, we look forward to supporting developers with the resources required to create innovative digital experiences and gain traction. These resources include multiple toolkits, workshops led by Huawei experts, and trainings that enhance developers' knowledge and expertise.
Looking ahead, we are excited to build our relationship with existing partners further and explore new collaborations with potential clients to expand the HMS ecosystem.