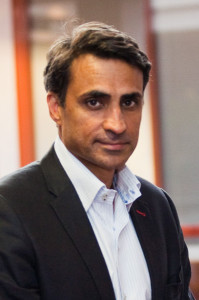 Distree Middle East 2014, in its 10th edition, is all set to kick off this month from 20th to 22nd May at Fairmont Bab Al Bahr, Abu Dhabi. Farouk Hemraj, CEO, DISTREE Events, discusses what the attendees can expect.
What are some of the unique features of Distree Middle East scheduled to take place in May?
There are quite a few unique features, beginning with the fact that the format is focused, it is only by invitation. We are not aiming at a large number of visitors like how a trade show would do. This is where we are different. We know from the beginning that we have X number of invitations for the retailers. As we are selective, we need to focus and target decision makers within the channel.
The primary objective is to create a platform where vendors and distributors can meet with the retailers in an appropriate format. This is why we host our events in 5-star hotels instead of big exhibition halls because the number of people is limited. It's only the people who make the market and that adds further value. It fits the need of different categories of vendors.
Sometimes with events like GITEX, you miss out on a lot of people who are potentially looking for you. They need to do in-depth research to identify who will be relevant whereas here we do all the research beforehand.
The third factor is that the meetings are pre-scheduled. Both parties are ready for the meetings because they have the access to the profile of the other party. It's not a chance meeting. In our approach, exhibitors and visitors know who they are meeting and how they can help in their business.
You also have awards on the last day, could you elaborate on that?
We have two different types of awards. The first one is product related, which is linked to our programme called, '60 seconds to convince', where vendors can go on stage and present a new product for one minute, after which there is live voting to select the best product of the event.
We also have an industry award, which is called Middle East Retail Academy (MERA) Awards. This is evaluated based on the vendors', retailers' and distributors' performance for the whole year. Our awards are unique because it is truly transparent. There is a list of top five finalists for each category and then there is live voting. This happens on the last day, during the gala dinner.
Could you discuss about the visitors' and exhibitors' profile?
We have 99 percent of the region's power retailers, in terms of visitors.
We have about 60 vendors and it's a big mix. We have the big brands and even new comers. This year we have a good number of tablet vendors too.
What can the attendees expect in terms of novelty?
Apart from the exhibition and one-on-one meetings, there will also be seminars. One of the topics for a half-day session is, 'Retail to business.' The idea is to brainstorm how retailers can address the SMB customers. Because many small businesses actually buy their IT products from the retailers compared to the reseller.
The second topic is about wearable technology. We are bringing in some demos and research pieces to add more value to this topic.
We also have a third programme, which we are building called Fresh. The idea is to offer innovative vendors an opportunity to showcase new product on stage, which is not out in the market yet. We have been running this in Europe and Monte Carlo and has been quite popular.
Could you sum up why should one attend Distree Middle East 2014?
Vendors will find value in being able to meet the who's who of the retail channel in two days in an organised manner. There are also many networking opportunities, which is helpful, because often many retailers have strict company policies where they cannot accept invitations from the suppliers. Whereas in our case, as we are vendor neutral and have 60 plus vendors, the retailers are keen to come and their management approves to attend such an event. The key advantage is to meet everyone in one place. It is also a regional event, we cover more than 15 countries, for the vendor it saves a lot of time.
Same goes for retailers and distributors, plus they get new content from workshops and presentations and they see new products. So it is time well spent at the event.