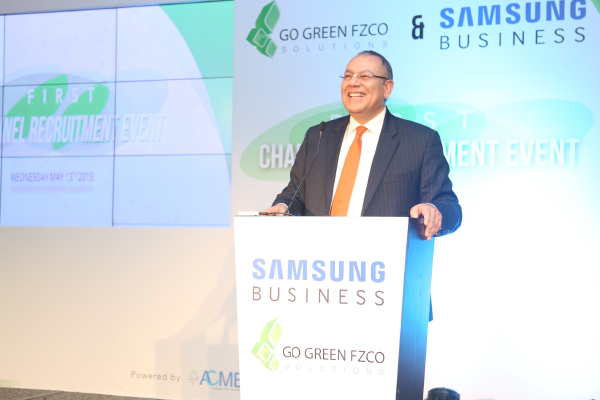 Samsung Business in partnership with its authorised B2B partner and distributor, Go Green Solutions, hosted its inaugural channel partner onboarding event last month at Raffles Hotel, Dubai. The event gathered over 150 channel players, presenting them the opportunity to get acquainted with the different partner incentives offered by the vendor and distributor.
Ramy Beddah, COO, Go Green Solutions, in his opening speech, encouraged the audience to become a part of the strong partnership between Go Green and Samsung.
"We have worked aggressively in structuring the best team and now we are ready to appoint the right value-adding partners who specialises in various industry verticals in the GCC market. Our confidence in our partnership with Samsung has led us to make significant investments in our infrastructure and human resources function. We aim to provide services to partners in the SMB and enterprise space and deliver solution-oriented services.
"Samsung is continuously developing more innovative products and solutions that transform the way we do business and Go Green is very proud to be a part of this success. With this, we will remain committed to offering solutions that increase efficiency, reduce costs and generate profits for businesses," said Beddah.
Khaled Kamel, Director, Samsung Electronics, who further underlined the great synergy between Samsung and Go Green, said, "Our partnership with Go Green gives us a great opportunity to extend our services to partners in various industry segments such as retail, hospitality and education. Our main purpose is to know what solutions to offer to enhance the customer experience whenever they engage with Samsung's services.
"We are looking for focused partners who are specialised in specific verticals. We want to work with partners who can customise our offerings depending on customers' requirements. We believe in offering value, both to our partners and customers."
This was followed by presentations from the channel leaders of Go Green and Samsung.
Mohammed Al Fadhil, Channel Enterprise Manager, Samsung, and Victoria Tcygankova, Channel Manager, Go Green, both elaborated the various incentive programmes on offer to potential partners.
The programme packages are classified into four categories namely Bronze, Silver, Gold and Platinum, each containing attractive incentives such as sales and technical support, marketing campaigns and employee trainings and more.
Fadhil reiterated the need for a stronger collaboration between Samsung and various key players in the channel. "We need a strong alliance with vendors and distributors such as yourselves, because although we own the technologies, you are the ones who own customer relationships, and only by working together, can we grow. We need you to inform us of your customers' needs so we can come up with new innovations to meet those demands. Subsequently, we can educate you on the new technologies that we will develop and how it can enhance your customers' businesses," he said.
Ahmed Ramzy, Sales Manager for Display, Samsung, presented on one of the tech company's latest offering in the market – the Smart Signage Platform. He highlighted how different market verticals such as retail, hospitality, transport and education can utilise the vendor's digital signage and TV solutions for a better customer experience.
Apart from being a good platform for networking, the event also enabled attendees to enroll to the different partner programmes, which were introduced during the evening.