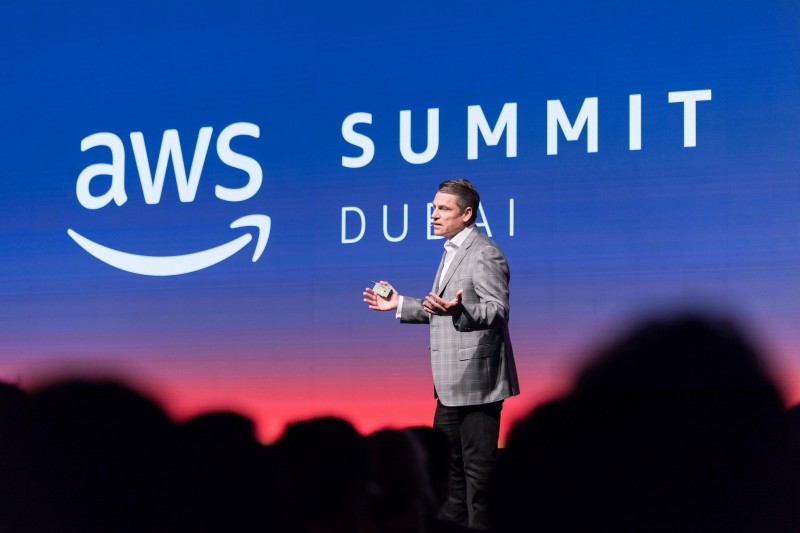 An Amazon Web Services executive has said that the a serverless future will soon become a reality, and that organisations now need to free themselves of the hassle associated with managing their own IT infrastructure.
Mike Clayville, the firm's vice president for worldwide sales and business development, was speaking at the inaugural AWS Summit in at the JW Marriott Marquis hotel in Dubai.
"Cloud eliminates capex, stops the need to guess capacity planning, and removes complicated infrastructure management, which offers little business value," he said. "We call this 'undifferentiated heavy lifting'. What differentiates business is leveraging technology to create new services for your customers. If you can focus on your business mission instead of building infrastructures, you can get more initiatives done, and have more resources to complete your objectives."
Clayville said that Amazon Web Services now has a $22 billion cloud run rate as of Q1 2018, while the firm made 1,430 feature and service launches in 2017, up from 1,017 in 2016.
"IT has transformed from physical infrastructure, to virtual machines, then to containers, and the future will be serverless. A lot of people are asking what comes after containers, and the answer is serverless computing, which is an application architecture pattern that frees you up from infrastructure concerns. With that, you achieve the ultimate goal of never having to worry about infrastructure."
Clayville went on to discuss the technical options for organisations looking to move to cloud – to re-host, re-platform, re-purchase or re-architect. "Re-hosting means taking the current virtual machines, and "lifting and shifting" them straight into the cloud," he said. "Re-platforming is to lift and reshape. Re-purchase means picking and choosing, and using fully managed services, while re-architecting means to rewrite and decouple."
Clayville was followed by Union Insurance CIO Anshul Srivastav, who said that the UAE-based firm had completed a "lift and shift" with AWS, which resulted in infrastructure cost savings of "84%".