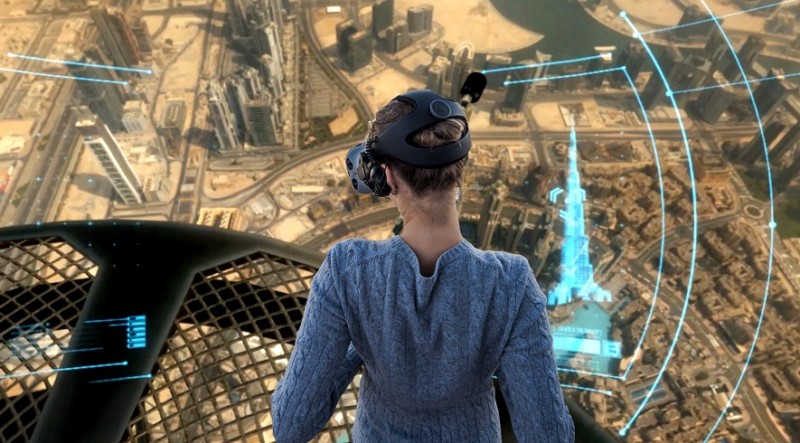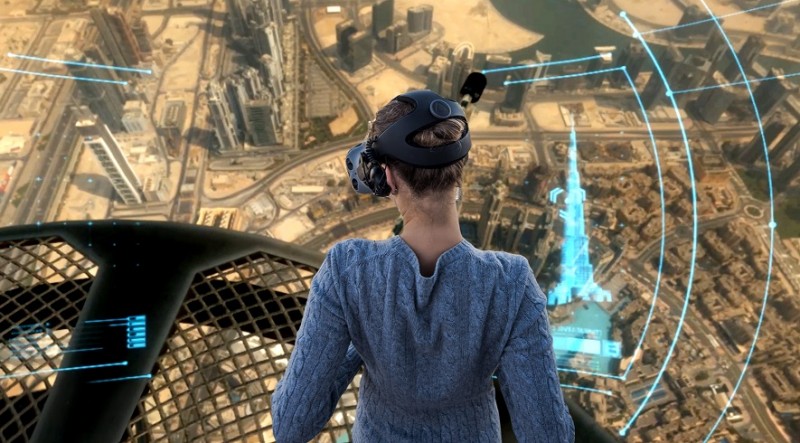 At the Top, Burj Khalifa, the region's most-visited attraction by Emaar Properties, has unveiled a new virtual reality experience that simulates the experience of scaling the building's 160 habitable floors as well as a climb to the top of the spire – the highest point of the global icon.
Mission 828, the new VR attraction, gives visitors the opportunity to have the virtual experience of scaling to the pinnacle of the tower before taking a parachute-jump right down to The Dubai Fountain.
It has been simulated to take users on a nerve-wracking four-minute journey that will give them a feel of what it is like to ascend and descend the tower in the most adventurous fashion.
Highlighting the innovations that are introduced regularly by Emaar, Mission 828 can be experienced through six VR pods at Level 125 and another at Level 124.
A 'mission commander' reaches out to the users as they first take the elevator ride on VR mode to the 160th level of Burj Khalifa.
They can feel the gravity-defying ride up, and proceed to collect suction gloves to ascent the spire, 200 metres high, pinnacling at 828 metres. The next step in the adventure is grabbing the parachute for the free-fall VR ride into the fountains.
The VR experience uses 'room scale' tracking technology that enables users to move in three-dimensional space and interact with the environment with motion-tracked handheld controllers. The pods even have a wind-effect, whereby the VR ride is as close to real as possible.
Mission 828 has been developed by a team that has worked for the Philharmonic Orchestra, UNICEF, the British Fashion Council and Rotary International as well as supported film and TV productions including two of the Harry Potter films.
Apart from the regular ticket charge, Mission 828 can be experienced with an additional ticket of just AED 35 per person.
At 828 metres (2,716.5 ft), the 200-plus-storey Burj Khalifa has 160 habitable levels, the most of any building in the world.
Earlier this year, Emaar and the Dubai Roads and Transport Authority completed a joint venture to use autonomous vehicles in Downtown Dubai.