Dubai Silicon Oasis Authority (DSOA), the regulatory body for Dubai Silicon Oasis (DSO), the integrated free zone Technology Park, and Volkswagen Middle East today announced the signing of a strategic partnership, on the side-lines of the 37th GITEX Technology Week 2017.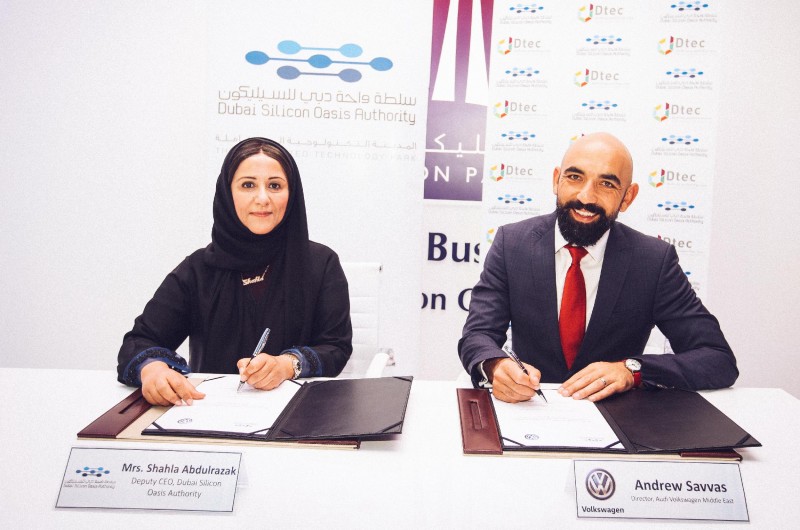 The partnership agreement was signed by Shahla Ahmed Abdul Razak, Deputy CEO of DSOA and Andrew Savvas, brand director of Volkswagen Middle East at DSOA's GITEX Stand in Za'beel Hall.
The strategic partnership between DSOA and Volkswagen Middle East aims to help define the future of mobility in the region through dedicated events, targeted mentorship, and accelerator programmes that will take place at the Dubai Technology Entrepreneur Centre (Dtec), DSOA's wholly owned technology incubator centre and the largest of its kind in the Middle East.
Commenting on the partnership, Shahla Ahmed Abdul Razak said, "We are proud to cement our strong ties with Volkswagen Middle East that began with the community safety-focused Human Crossing initiative at DSO in 2016, which gathered numerous accolades as a smart initiative. We appreciate the company's efforts in supporting Dtec, currently the base of operations for more than 700 startups. Our strategic partnership opens a two-way corridor of collaboration between our organizations, and will significantly benefit of the pool of entrepreneurs available at Dtec, especially those in the field of smart transportation."
Andrew Savvas added, "We continually seek to attract like-minded individuals and entities that demonstrate a strong spirit of innovation and are not averse to challenge. They aspire to stand out from the crowd, create their own path to success and lead rather than follow. To achieve this goal we aim to work with the most innovative industry partners in shaping the future of mobility. As the biggest cluster of start-ups in the UAE, Dtec is clearly one of them."
Located in the heart of Dubai Silicon Oasis, and home to hundreds of startups and enterprises from more than 70 countries, Dtec is designed to accommodate and support the brightest entrepreneurs in technology.