Etisalat has announced it will exclusively offer the 'Circle with Disney' parental control device for all customers in UAE.
This exclusivity was a result of Etisalat's partnership with Circle Media Labs, which develops products used by families to manage all their connected devices.
"We have always strived to give great value to our customers with high-quality products, and Circle with Disney is a seamless fit," said Khalid El Khouly, Chief Consumer Officer, Etisalat. "Cybersecurity is a grave concern for parents today and offering customers a way to monitor and filter content is going to change how the Internet is used in many households."
'Circle with Disney' allows parents to control how long their children are online and filter which sites they can access to keep them safe online. The device is available for AED549 upfront (currently on sale at AED449 during the Dubai Shopping Festival), or at monthly instalments starting at just AED25 per month. Customers can purchase this device online at Etisalat.ae/circle with free delivery, or at Etisalat outlets for their convenience.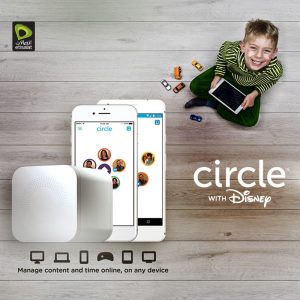 "Managing kids on devices is a global issue," said Lance Charlish, CEO, Circle Media Labs. "You'll find parents who are looking for ways to manage their kids' content and screen time, and Circle is that answer, both inside and outside the home."
Circle with Disney is the smart way for families to manage content and time online, on any connected device. With the easy-to-use Circle app – available for download on both iOS and Android devices – parents can easily create unique profiles for each family member. This includes creating daily time limits for apps and websites, setting individual filter levels for each family member, scheduling bedtime for each connected device, and pausing the internet by device or by user with the press of a button. Parents can manage user profiles and settings, and completely customise them based on kids' ages and parents' preferences.