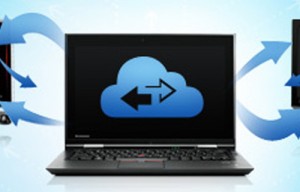 The first cloud storage service to be integrated as an out-of-box experience on Lenovo PCs and tablets launched today.
Lenovo Cloud Storage by SugarSync allows users to access, sync and backup their files across devices, and gives them a free 5GB account to do so.
It can be downloaded now and will be available on new Lenovo ThinkPad and IdeaPad laptops and Android tablet products worldwide outside of China from April.
Unlike other cloud storage services, it works with internet-based products from other manufacturers across a broad array of devices, including laptops, smartphones and tablets and across all major operating systems.  The service also offers time-saving and security features such as group collaboration, social network sharing and data encryption.
"Lenovo Cloud Storage by SugarSync makes it incredibly simple and convenient for people to interact with their growing libraries of digital content, from anywhere, at anytime," said Mark Cohen, distinguished engineer and VP at Lenovo.
"The service plays a fundamental role in our plan to expand cloud services, bringing even more new capabilities to consumers and businesses around the world," he added.