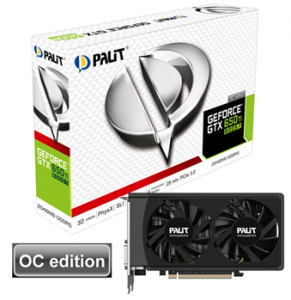 Palit Microsystems last week unveiled its GeForce GTX Ti Boost series, the latest addition to the Nvidia Kepler-powered family of gaming GPUs.
The new series includes the GTX 650 Ti Boost OC 2GB and the GTX 650 Ti Boost 2GB. Palit said that both models represent the Kepler "sweet spot" for gamers, combining performance, power efficiency and value for money.
The family is overclocked at boost clock 1,072 MHz, which is 39 MHz greater than the standard speed, and the 2GB GDDR5 memory clock is set at 6,108 MHz – 100 MHz higher than standard. Palit claims that this results in a 30-percent performance increase at the DX11 benchmark, and 40-percent better performance in gaming, compared with the GTX650Ti.
Palit claims the new series offers 66 percent more memory bandwidth, Nvidia SLI and Nvidia GPU Boost technology that maximises clock speeds, delivering class-leading performance.
Other features include:
Microsoft DirectX 11 Support:
DirextX 11 GPU with Shader Model 5.0 support designed for ultra high performance in the new API's key graphics feature, GPU-accelerated tessellation.
NVIDIA PhysX Technology:
Full support for NVIDIA PhysX technology, enabling a totally new class of physical gaming interaction for a more dynamic and realistic experience with GeForce.
NVIDIA 3D Vision Ready
Support for NVIDIA 3D Vision, bringing a fully immersive stereoscopic 3D experience to the PC. A combination of high-tech wireless glasses and advanced software, 3D Vision transforms hundreds of PC games into full stereoscopic 3D. In addition you can stream 3D movies and 3D digital photographs from 3DVisionLive.com in eye-popping, crystal-clear quality.
NVIDIA Surround Technology
With Single GeForce GTX, you can expand your PC game or workspace across three displays for the ultimate widescreen experience Add in a forth accessory display to get access to your email, web, or other applications while you game.
NVIDIA FXAA Technology
Shader-based anti-aliasing technology available from the NVIDIA Control Panel that enables ultra-fast anti-aliasing in hundreds of PC games.
NVIDIA TXAA Technology
Support for new temporal anti-aliasing technique that delivers the ultimate combination of image quality and performance.
NVIDIA Adaptive Vertical Sync
Dynamically enables vertical sync based on your current frame rates for the smoothest gaming experience.
PCI Express 3.0
Designed for the new PCI Express 3.0 bus architecture offering the highest data transfer speeds for the most bandwidth-hungry games and 3D applications, while maintaining backwards compatibility with existing PCI Express motherboards for the broadest support.