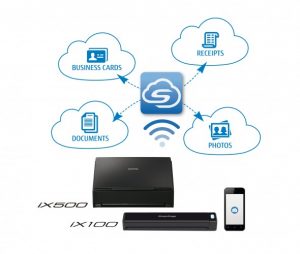 Fujitsu subsidiary PFU (EMEA) Limited, has added new partners to the ScanSnap Cloud – Expensify, Intuit, Concur and Shoeboxed. ScanSnap Cloud is a free service that enables users of ScanSnap iX100 and iX500 document scanners to directly scan documents to cloud applications without needing a computer or mobile device. It intelligently sorts and routes data directly to cloud-based services of the user's choice. Together with the cloud services that are already available for the ScanSnap Cloud ecosystem, these new additions offer users of ScanSnap iX100 and iX500 a broad variety of cloud applications to choose from. In addition, PFU also added new functionalities to the ScanSnap Cloud that help streamline the capture process.
"We have made a great product even better," said Mike Nelson, vice president, Fujitsu subsidiary PFU (EMEA) Limited. "We are committed to offering scanning products that support customers with the digitisation of their business processes, and these new partnerships with cloud service providers will improve the user experience for many ScanSnap customers."
Users can scan directly to ScanSnap Cloud without the need for a computer or mobile device. It automatically classifies scanned content into categories such as documents, receipts, business cards and photos, and then sends them to the user's favourite cloud service.
The first participating cloud services included Dropbox, Evernote, Google Drive, Google Photos, OneDrive and Box. Now, with the integration of the services Expensify for managing expenses, Concur Expense for receipt organisation and automating expense reports, Shoeboxed for turning receipts into an organised online archive as well as the accounting software QuickBooks Online, users can enjoy even more productivity. According to the firm, more local and global partners are set to join in the future.
 Owners of a ScanSnap iX100 or iX500 who have a Concur Expense or QuickBooks Online account can now simply press the scan button and their receipts will automatically be sent to their cloud accounts. Submitting their reports on the go will also help them get reimbursed faster. There are several new features that have been added to the service.
ScanSnap Cloud app for iOS and Android-based mobile devices enables users to utilise their mobile device for image capture into the ScanSnap Cloud ecosystem. Owners of a ScanSnap iX100 or ScanSnap iX500 now enjoy full ScanSnap Cloud functionality with both their scanner and the camera on their mobile phone.
Conversion to searchable PDF format is now available, ensuring full text search for easy retrieval of document content.
Intelligent Name Assist can extract information like date or headline from a document for automatic name generation. This is very helpful, for example, to sort business cards or receipts, said the company.