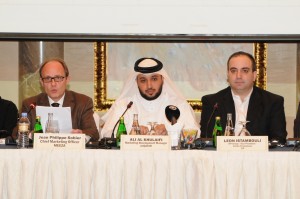 QITCOM 2012, the pre-eminent platform for the information and communication technology (ICT) sector in Qatar, joined with ICT industry leaders during a special gathering for the events' sponsors held at Al Sharq Hotel on Sunday, to give their support to the second annual Conference & Exhibition to be held March 5th -7th 2012 at the Doha International Exhibition Center.
Among the sponsors present was MEEZA, the leading IT solutions and services provider in Qatar and QITCOM 2012 Strategic partner, who will take the opportunity to demonstrate their newest solution offerings during the event. Sponsoring part of the programs conveyed at QITCOM 2012, MEEZA experts will be presenting latest IT trends and the benefits and challenges of industry-wide debates.
QITCOM 2012 Pearl Sponsor, Qtel shares an alignment with QITCOM's overall objective of leveraging Qatar's 2015 ICT Strategy and the drive to nurture innovation and fuel a sense of discovery among young people in Qatar.
Integrity Sponsor, Vodafone is partnering with QITCOM 2012 to hold the first ever "Appathon" event in Qatar during the Exhibition and Conference. "Indie Fikra: Appathon 2012" is an excellent opportunity for Qatar's best developers to showcase their talents and create mobile applications that may very well change the world and QITCOM 2012 offers an best environment to host such an initiative.
Also present on the occasion were Huawei and SAP, QITCOM 2012 Diamond sponsors.  As a leading global telecoms solution provider Huawei reinforces QITCOM 2012's position as a regional platform for sharing information and knowledge in the ICT sector. While SAP will also take the opportunity to demonstrate how new technology and applications address the requirements of enterprises of all sizes and how they provide business-critical information on mobile devices during the three-day event.
Platinum sponsors HP, Microsoft and Cisco attended the sponsorship press conference in recognition of QITCOM 2012's local and regional significance to the ICT sector. Each ICT giant in its respective fields their involvement will help ensure that this year's edition is going to be a landmark occasion.
Official Bank sponsor, Qatar National Bank (QNB) has supported the event for the second year and seen it grow in both strength and size since its inaugural edition. As a leading bank in Qatar, QNB recognizes the importance of technology as an enabler to society and the economy and QITCOM 2012 offers an idea platform for knowledge sharing in this crucial and dynamic sector.
QITCOM 2012 Gold sponsors include IBM, Ericsson, Oracle and ABK. Joining as Silver sponsor is Ali Bin Ali. Bronze sponsors are, SONATA, Help AG, EMC, McAfee, Symmantek, Syska Hennessy Group MENA, Mannai Trading Co. WLL, TechnoServe, Booz Allen Hamilton and Manage Engine.
Speaking on the occasion, Ali Al-Khulaifi, QITCOM Organising Committee Chairman said, "We would like to take the opportunity to thank all of QITCOM 2012 sponsors for their support; without their ongoing commitment this event could not be the success it is. QITCOM 2012 provides a crucial link for policy-makers, ICT technology providers and the country's large-scale ICT consumers. It is a platform where these groups can meet to discuss the sector and the shaping of technology into end-user services that advance the development of Qatar towards a knowledge-based society."
Organised by IFP Qatar in partnership with ictQatar, QITCOM 2012 will build on the success of last year's edition providing a diverse three-day program including an informative and motivating conference as well as extensive exhibition space.
Leon Istambouli, Vice President of IFP Group Visitor Promotions announced, "We're fortunate to be sponsored by 25 local, regional and international companies that have trusted and invested in us. QITCOM is supported by 28 partners and 180 exhibiting companies covering 15000 sqm of exhibition space and a conference that will host just over 117 international and local speakers from 17 different countries. We have also hit a record number of registrants to the conference with more than 1700 delegates to date.  Again, it is because of the dedication and efforts of all the people involved that makes QITCOM a great success. QITCOM marks Doha as a landmark for ICT in the region, and in due time we intend to take this vision globally.''
The Conference and Exhibition will run concurrently and QITCOM 2012has already attracted leading regional and local speakers. Opening the Conference on 5th March will be Dr. Hessa Al Jaber, Secretary General, ictQATAR, Mr. Rashid Al-Naimi, Chairman and Chief Executive Officer, MEEZA – Vice President Administration, Qatar Foundation and Dr. Hamadoun Touré, Secretary General, ITU. Sessions include, 'Broadband, Network and Infrastructure', 'Cyber Security', 'Digital and Mobile Advertising', 'Accelerating Entrepreneurship in the Arab World' and 'Smarter Homes & Cities', as well as many more. Register online to be part of it.