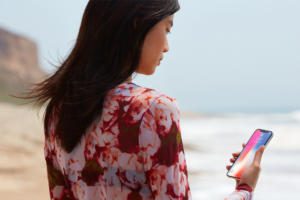 Apple has revealed plans on incorporating a rear-facing 3D sensor system for 2019 iPhones, according to a report in Bloomberg.
This will take the firm closer to making the smartphone into a leading augmented reality (AR) device, people familiar with the matter said to Bloomberg.
According to the news agency's sources, the tech giant is looking at a different technology from the current one used in its TrueDepth sensor system on the front of the iPhone X.
According to Apple, "TrueDepth camera that enables Face ID brings portrait mode with portrait Lighting to the front camera for selfies with a depth-of-field effect and enables Animoji, which captures and analyses over 50 different facial muscle movements to bring emoji to life in a fun new way."
The present system depends on a "structured-light technique that projects a pattern of 30,000 laser dots onto a user's face and measures the distortion to generate an accurate 3D image for authentication."
The report said that the planned rear-facing sensor would instead use a time-of-flight approach that calculates the time it takes for a laser to bounce off surrounding objects to create a three-dimensional picture of the environment.
The 2019 iPhones are expected to have both front and rear-facing 3D sensing capabilities, as per the report.
The sources said that Apple has begun discussions with potential suppliers of the new system. Some firms that manufacture time-of-flight sensors include Infineon Technologies AG, Sony, STMicroelectronics NV and Panasonic.
"The testing of the technology is still in early stages and it could end up not being used in the final version of the phone," sources told Bloomberg.
From the beginning of this month, Apple's latest iPhone X devices have been available in the UAE market. While iPhone 8 and iPhone 8 plus were available from September. Watch the video here to have a look at all the features of the recently launched smartphone.