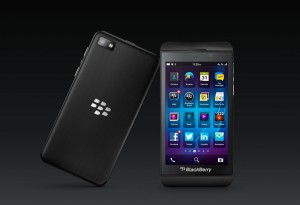 BlackBerry will have to work harder to get the word out about its new BlackBerry 10 operating system and smartphones, if a research firm's findings are any indicator.
In a survey of 1,500 U.S. consumers by MKM partners, 82.6 percent said they didn't know BlackBerry 10 had launched in Canada and Europe in late January and didn't expect the OS to be available in the U.S. within the next 30 days. The survey was conducted between March 7 and April 2.
"The ineffectiveness of BlackBerry's marketing plan is highlighted by the 63 percent of respondents who were completely unsure as to when the BB10 would be released in the U.S.," MKM noted. Asked if they were curious about or interested in the new operating system, 68 percent said they were not.
But don't laugh if you're a Windows Phone user. In that same survey, 60.5 percent of respondents didn't know that phones running Windows Phone 8 were available for purchase, and 63.9 percent of respondents said they weren't at all curious about or interested in Windows Phone. Only 0.7 percent said they planned to get a Nokia as their next phone.
BlackBerry's all-touch Z10 smartphone launched on three of the four major U.S. wireless carriers in late March, with Sprint being the lone holdout. But the amount of promotion BlackBerry is getting from the carriers is mixed. The Wall Street Journal has reported that AT&T doesn't seem to be highlighting the BlackBerry Z10 in its stores, while Verizon appears to be making a stronger push according to Barron's. Carrier support was a big stumbling block for Windows Phone early on, and could be an issue for BlackBerry as well.
On the bright side, 5.9 percent of respondents said they planned to buy a BlackBerry – the third-highest percentage among all phone makers behind Samsung and Apple. If BlackBerry can convince its existing customers to migrate to BlackBerry 10 – particularly once the keyboard-equipped Q10 launches – it may have a shot to compete with Microsoft as a viable third ecosystem behind iOS and Android.
The survey otherwise reiterates that the U.S. smartphone market is dominated by Apple and Samsung, with 33 percent saying they owned an iPhone and 28.3 percent saying they owned a Samsung phone. While nearly half of respondents weren't sure what phone they'd get next, 19.6 percent had their eyes on a Samsung, and 17.7 percent were considering an iPhone. No other phone maker came close in purchase intention.