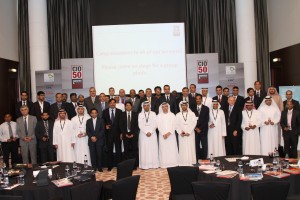 A selection of CIOs were honoured as the top 50 in the region today at CNME's annual CIO 50 Awards and Forum event at The Address Hotel, Marina, in Dubai.
The award ceremony recognises the head decision maker of 50 organisations who have shown innovation, intelligence and intuition over the past 12 months.
The event kicked off with a selection of end user presentations, including Joe Tesfai, CIO at Atlantis, The Palm, Ali Almazrooei, CIO at Emal, Arun Tewary, CIO at Emirates Flight Catering, Muhammad Ali Albakri, CIO at Saudi Arabian Airlines and Ali Sajwani, CIO at Emirates NBD.
The main themes addressed by each speaker were the consumerisation of IT and its effect as a business enabler, the challenge of mobility and BYOD and IT expenditure.
"The big five IT trends of the next half decade are mobile, social, cloud, consumerisation, and big data," said Tesfai.
"Today, IT faces many challenges, but each challenge is an opportunity to innovate," said Almazrooei.
As well as presentations and the awarding ceremony, CNME also announced the launch of the new CIO Council, an exclusive online platform for the region's CIOs to connect and collaborate on IT challenges, and CPI Analytics, CPI's new research venture which will target local resources to gain vital local data for the area, something currently unavailable in the Middle East.
"I've been in some pretty big jobs, and all these survey results come out, but I don't know where from, they've never asked me," joked Tewary, during his presentation.
Albakri delivered a case study on the King Abdullah Economic City currently under construction in the Kingdom of Saudi Arabia.
Following the presentations, the awards were handed out to the winners, they were as follows:
| | |
| --- | --- |
| 1) Aliasgar Bohari | Zulekha Hospitals |
| 2) Ali Nimer | IRENA |
| 3) Mohammed Saeed Al Shehhi | General Civil Aviation Authority |
| 4)Saeed Ali Muaili | Emarat |
| 5) Jay Daga | Topaz |
| 6) Esam Alfalasi | Ministry of Economy, UAE |
| 7) Nadeem Busheri | Dubai Islamic Bank |
| 8) Sabri Ali Yahya | Etisalat |
| 9) Ali Sajwani | Emirates NBD |
| 10) Mohammed Abdulla AlZaffin | Dubai Municipality |
| 11) Saeed Al Dashti | Jumeirah Group |
| 12) Patrick Naef | Emirates Airlines |
| 13) Ghazi Qarout | Al Hilal Bank |
| 14) Alok Srivastava | Masdar |
| 15) Dr. Hazem Turki El Khatib | Abu Dhabi Department of Finance |
| 16) Ali Mohd Ali | Health Authority – Abu Dhabi |
| 17) Madhusudhan Sarangi | Port of Fujairah |
| 18) Ronald D'Sa | OSN |
| 19) Khalid bin Hamad Al Khalifa | King Hamad University Hospital |
| 20) Nasser Almojel | Princess Nora bint Abdulrahman University |
| 21) Muhammad Ali Albakri | Saudi Arabian Airlines |
| 22) Joe Tesfai | Atlantis, The Palm |
| 23) Suresh Rajagopalan | Qatar Islamic Bank |
| 24) Razi Amin | First Energy Bank |
| 25) V Suresh | Jumbo Electronics |
| 26) Ahmad AlHaddad | DP World |
| 27) Robert Pickton | Abu Dhabi Health Services Company |
| 28) Osama Abushaban | Al Fahim Group |
| 29) Terence Sathyanarayan | Drake & Skull |
| 30) Madhav Rao | EMKE Group |
| 31) Younis Othman | Dubai Customs |
| 32) Arnab Debroy | Metito Overseas |
| 33) Dr. Jassim Haji | Gulf Air |
| 34) Arun Tewary | Emirates Flight Catering |
| 35) Imad Taha | Belhasa International Group |
| 36) Wael Abdel-Qader | Al Rostamani Group |
| 37) Faud Al-Ansari | Takreer |
| 38) Matar Al Qamzi | TDIC |
| 39) Amer Kazim | Dubai Airports |
| 40) Ali Almazrooei | Emal |
| 41) Khalid Tariq | Higher Colleges of Technology |
| 42) Amin Al-Zarouni | Bee'ah |
| 43) Mahmoud Kamal | Habtoor Hotels |
| 44) Samir Abi Frem | Rotana Hotels Management |
| 45) Joseph Aninias | UOWD |
| 46) Leo de Sousa | American University of Sharjah |
| 47) Maisam Zaidi | Al Jaber Engineering & Contracting |
| 48) Samir Alamari | Alshamel Travel |
| 49) Einstein Johnson Rozario | MedNet UAE |
| 50) Fady Sleiman | General Electric |