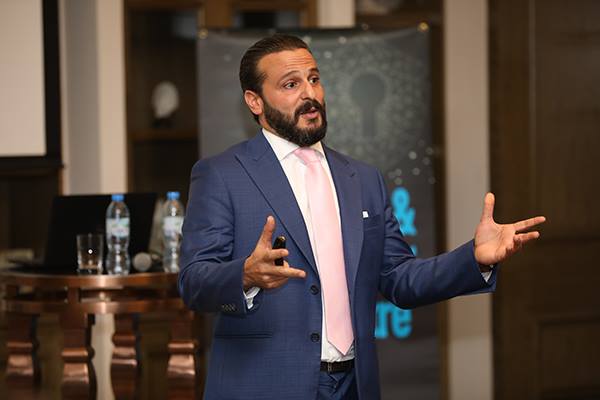 Robust IT infrastructure is the foundation of initiating digital transformation projects, a roundtable jointly hosted by tahawultech.com, Arrow and Dell EMC today concluded.
A selection of IT end users gathered at the St Regis Hotel in Dubai to discuss how businesses should look to build their technology roadmap around a quartet of aspects that are most likely to be disrupted in the coming years.
Samer Semaan, Dell EMC's distribution manager for the Gulf region and the UAE, got the discussion underway by framing the context for what is needed to initiate technological change, and the complexity that inevitably follows.
"Five years back, vendors were only telling customers that they needed a private cloud," he said. "However, the reality is that today, it's never a case of pushing a button and transforming your infrastructure overnight. Everything relies on the right software and hardware.
"Software is the DNA of change. Software is not a tool for digital, but the driver of it. Without software, what is a laptop? It's just a box."
Semaan went on to highlight the areas of business that he believes are most ripe for disruption. "There are four types of transformation: digital, IT, workforce and security," he said.
"Today, work is no longer a place, but an activity that can be conducted from anywhere. No one is doing business like they were before. Employees can work from anywhere, and businesses need to change in order to accommodate that reality."
Mostafa Kabel, Arrow's technical manager, followed Semaan by homing in on how hyperconverged infrastructure had the potential to solve a number of day-to-day challenges.
"HCI is the fastest way to modernise your data centre, and delivers the business agility, scalability and simplicity needed to stay competitive. It will undoubtedly be a catalyst for transformation.
 "Currently 6% of organisations across the world are in the legacy phase in terms of IT infrastructure, 45% are emerging, 43% evolving, and 6% are transformed. Meanwhile 81% agree that if they do not embrace IT transformation, their business will no longer be competitive in the market."
Arrow's Amjad Antari rounded off the discussion by discussing the importance of effective data protection software in an era of swift technology change.
"The explosion of mobile devices, IT-as-a-Service and cloud are all increasing data volumes drastically," he said. "Next-generation applications will transform data protection, and protection storage must be efficient, reliable, flexible and cloud-enabled. It needs to integrates easily with industry applications and deliver end-to-end data verification."