Gopan Sivasankaran, General Manager META at Secureworks, speaks to Tahawultech about the leading cybersecurity and attack trends and the company's plans for the region.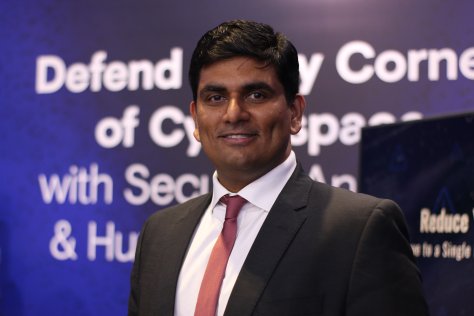 What products are you showcasing at GISEC?
At GISEC, we are primarily discussing SOC of the future. How organisations can continuously improve the efficiency and effectiveness of SOC operations.  We are discussing the following key areas.
What does the threat landscape look like in 2022 and how is it evolving in a way organisations need to make a change in their cybersecurity strategies?
Some of the key challenges organisations face in protecting themselves from these ongoing threats stem from the fact they lack full visibility across their own entire IT and security infrastructure and not having enough cybersecurity skills in house to protect themselves.
And finally, we will be showcasing our award-winning, battle tested platform Taegis, which has been built by security experts for security experts to prevent, detect, and respond to threats and vulnerabilities.
What are the leading cybersecurity trends this year?
It's extremely difficult to be a cybersecurity buyer in today's world, mainly because it's easy to get lost in the sea of similar-sounding language and difficult terminologies like EDR, MDR, and XDR.
And threats continue to evolve.
One thing I can say for sure – XDR will take centre stage in 2022
While the XDR (extended detection and response) market is still relatively young, we can expect it to take centre stage in 2022. With limited visibility into their hybrid IT environments, understaffed security teams, and growing cost and complexity of managing disparate security tools, organisations are increasingly looking at XDR solutions to unify their existing security infrastructure, provide actionable, focused insight from a single console so that security teams can investigate and rapidly respond to threats in a highly automated and rapid fashion. XDR solutions provide that comprehensive attack surface coverage across endpoint, network, identity and cloud environments to help organisations gain a full understanding of the threat scenario and quickly respond accordingly.
Organisations will increasingly turn to MDR (managed detection and response) to gain efficiencies
With the scarcity of skilled cybersecurity talent and the fact that many organisations lack sufficient resources, organisations will increasingly be looking at Managed Detection and Response (MDR) services. Many organisations cannot afford to build and operate their own SOC or hire a dedicated security team to provide the 24x7x365 threat monitoring and response coverage need to stay ahead of an evolving threat landscape. Organisations that do have security staff but are looking to scale up, will also turn to MDR service providers to expand their capabilities. According to Gartner, by 2025, 50% of organisations will be using MDR services for threat monitoring, detection, and response functions that offer threat containment and mitigation capabilities (source: Gartner).
Automation and Risk-Based Prioritisation will become key to Vulnerability Management
Vulnerability management continues to be ineffective because the issue of prioritisation continues to be ignored. Security teams have been detecting vulnerabilities over the years and passing these to the IT teams to patch, and we have now got to a stage where the IT teams are potentially expected to patch thousands of vulnerabilities every day. By the time they get closer to the target, the next set of vulnerabilities arrive. On top of that, there are severe dependencies on underlying application support, downtimes, etc. The only way we can solve this problem is by having an effective and automated way to prioritise vulnerabilities to bring the number to practical numbers instead of thousands. AI technology is one approach that can help alleviate the exploding burden on typical vulnerability management operations teams and we can expect to see an increase in the use of AI in the detection, prioritisation and remediation of vulnerabilities. Relying on vulnerability severity scores is no longer effective and organisations will have to shift towards prioritisation based on the context of the environment. As such, organisations will be looking for technologies that can quickly assess and determine what should be prioritised based on the likelihood of a vulnerability being exploited times the potential impact on the organisation and its overall business. Understanding the risk posed by vulnerabilities to an environment will be key to vulnerability management in 2022. 
What is 2022 looking like for Secureworks and what is your major area of focus going to be?
We are expanding in the region to meet increased customer demand. I took on the leadership role for Secureworks in the META region in August 2021, and we are building out our sales, marketing and service delivery teams in the region. This region is a fast-growing market, so we're absolutely committed here. Our focus will be centered around bringing Taegis to mass market throughout the region.
The channel continues to be an important business driver for us in the region, and we will continue to maintain focus there. Our recent distribution agreement with Redington reinforces our commitment to the channel.
From a geographic coverage perspective, our focus has been primarily in GCC, and we are now bringing focused attention to the African market with new teams dedicated for South Africa and Emerging Africa.
It's not just 2022 that we are looking at in terms of growth. We plan to grow Secureworks' market presence through consolidation and expansion plans over the next few years.