Saeed Mohammed Al Tayer, MD and CEO of Dubai Electricity and Water Authority, DEWA, has inaugurated DEWA's Digital Command Centre.
The new Centre, which is the first of its kind in the UAE, uses artificial intelligence (AI) technology to monitor and manage the authority's digital infrastructure and service channels.
This supports DEWA's strategy to keep pace with the Fourth Industrial Revolution and make use of the latest technologies.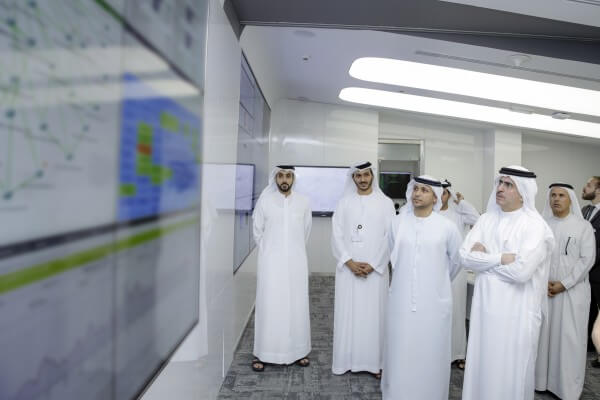 The centre monitors DEWA's service channels, including the services of the Future Centres for Customer Happiness, DEWA's website, and smart app. It also monitors infrastructure such as SAP and smart grid meter systems.
It will work round the clock and adopts state-of-the-art technology to ensure action is taken in case of emergencies within DEWA's IT environment. The centre is also equipped with alternative power lines for the network, to ensure business continuity.
"The inauguration of this centre, which depends on AI technology, supports the vision of Sheikh Mohammed bin Rashid Al Maktoum, Vice President, Prime Minister and Ruler of Dubai, to anticipate the future, and innovate and employ new technologies to achieve the best results," said Al Tayer.
"Our strategies and initiatives are in line with national plans and strategies. These include the UAE Centennial 2071, which is a long-term government plan to prepare the UAE and young Emiratis for the future, and the UAE Artificial Intelligence Strategy. This is the next phase of Smart Government. The UAE's future services, sectors and infrastructure will depend on the investment and application of AI technologies and tools."
Al Tayer also noted that DEWA's Digital Command Centre is 100 percent Emirati. "This is part of our efforts to enhance Emiratisation at DEWA and use highly qualified Emirati staff. The centre will measure customer satisfaction by analysing customer interaction with smart services, carrying out pre-emptive capacity analysis, identifying future infrastructure needs, and analysing the performance of different infrastructure components to detect any change in infrastructure performance," he added.
DEWA has launched several innovative projects and initiatives, based on AI, robotics and the Internet of Things, IoT, to keep pace with the Fourth Industrial Revolution. These include Rammas, DEWA's virtual employee, which responds to customer queries quickly, and Digital DEWA, the digital arm of DEWA, which reimagines the concept of service organisations and creates a new digital future for Dubai.