Volvo Cars, with its new 360c autonomous concept, tackles one of the main challenges around the introduction of autonomous technology and calls for a new, global standard in how autonomous vehicles can safely communicate with all other road users.
However, autonomous technology will be introduced gradually rather than overnight. As a result, fully autonomous cars will be introduced in a mixed traffic situation where driverless cars without a human driver will share the road with other road users.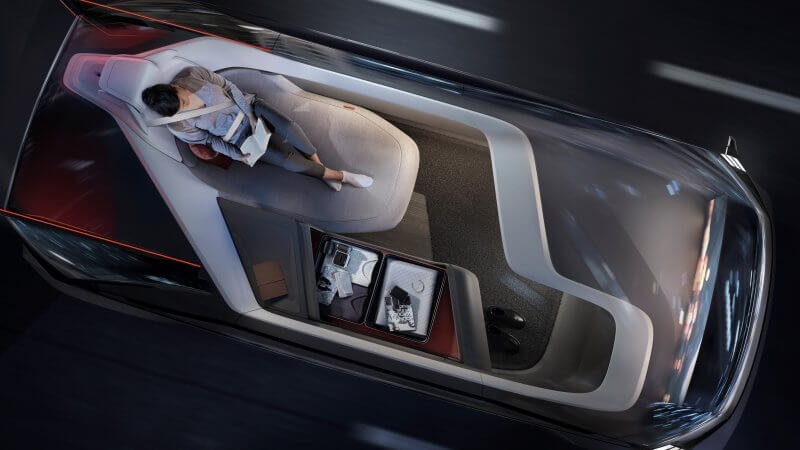 In such a traffic situation, it will no longer be possible to make eye contact with and learn about another driver's intentions, a central element of today's everyday traffic interaction.
As part of the development of the 360c, Volvo Cars safety engineers decided to tackle this challenge of how to establish a safe means of communication between fully autonomous cars and other road users.
Additionally, the focus was to create a universally applicable standard, so that other road users do not have to consider the make or brand of individual autonomous cars.
The 360c addresses this challenge with a system comprising external sounds, colours, visuals, movements, as well as combinations of these tools, to communicate the vehicle's intentions to other road users. This means it is at all times clear what the car will do next.
Crucially, while the design of the 360c safety communication technology focuses on making the car indicate its own intentions to other road users, it will never issue directions or instructions to other road users.
"We strongly believe this communication method should be a universal standard, so all road users can communicate easily with any autonomous car, regardless of which maker built it," said Malin Ekholm, vice president at the Volvo Cars Safety Centre. "But it is also important that we do not instruct others what to do next, in order to avoid potential confusion. Our research shows this is the safest way for fully autonomous cars to communicate with other road users."
The 360c represents Volvo Cars' vision for a future of travel that is autonomous, electric, connected and safe – and which may allow Volvo Cars to enter new growth markets.
It presents four potential uses of autonomous driving vehicles – a sleeping environment, mobile office, living room and entertainment space – which all reimagine the way people travel.
Inside the sleeping environment, Volvo Cars' safety engineers have also looked at the future of safety technology and how a different passenger positioning could influence safety. A special safety blanket included in the sleeping environment envisions a future restraining system that works just like the three-point safety belt, but is adjusted to people lying down while travelling.
The 360c also envisions a range of new potential customer groups for the company's business and considers the possible implications for the future of city planning, infrastructure and modern society's environmental footprint.