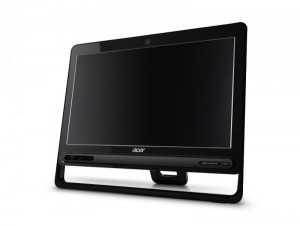 Acer on Sunday announced its latest all-in-one consumer desktop, the 19.5-inch Aspire ZC-605.
As is the case with most all-in-one desktops, Acer's new unit puts strong emphasis on having a clean design. Encasing the display is a thick black bezel that looks like a high-quality photo frame. The capsule-shaped speaker and port bay is also pretty eye-catching.
And to ensure that you don't ruin the sleek looks with ugly wires running everywhere, Acer has fitted hooks to the ZC-605's stand, so that cables can be kept in place.
Behind the pretty face, though, there are plenty of practical applications to the new design. The tilt can be adjusted from 10 to 30 degrees, for example, and the 1-megapixel HD webcam is also adjustable. That capsule housing the speakers, meanwhile, also houses the most frequently used ports, including a USB 3.0 input.
In terms of the computing power, the ZC-605 can be specced with an Intel Pentium 2117U processor, an Intel Celeron 1007U processor or an Intel HM70 Express Chipset. Users can spec up to 16 GB of DDR3 1600 MHz SDRAM, and up to 1 TB for storage, which comes in the form of a 7200 rpm, 3.5-inch SATA 3 GB/s hard disk drive. Graphics are dealt with by Intel HD Graphics.
Naturally, the new Acer comes preloaded with Windows 8, and Acer will also throw in AcerCloud, the firm's own public cloud service.