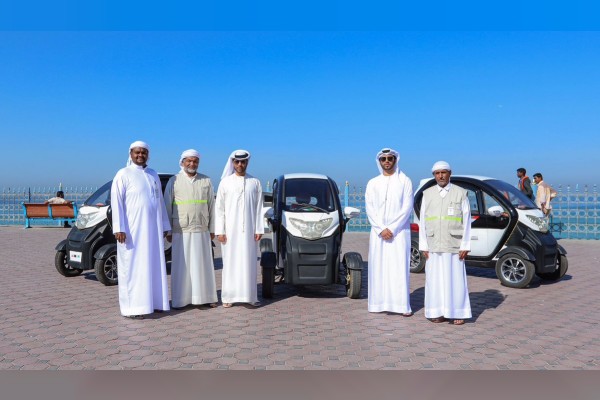 Ajman's Department of Agriculture and Public Parks, part of the Ajman Municipality and Planning Department, has launched environmentally friendly hybrid vehicles to harness alternative energy in the emirate's bid to help protect the environment.
Ahmed Saif Al Muhairi, the Department's director, said, "The move came in translation for the vision of the leadership and their environmental aspirations, and keenness to provide a safe and stable environment for tourists and visitors of Ajman.
Al Muhairi added that the initiative reflects the agricultural strategic objective adopted by the Council of Happiness and Positivity of the municipality, which aims to provide clean renewable energy in public facilities for sustainable development.
"The Department of Agriculture and Public Parks at the public health and environment sector prepared hybrid, environment-friendly, electricity and alternative renewable energy powered-vehicles to monitor public facilities and provide the needs of tourists and visitors of the beaches, Marina area, Safia area and public facilities."
In November, it was announced that the UAE's draft regulations on the use of electric vehicles are set to be extended across GCC countries.
The news came after it was reported that between 9 and 20 million electric cars could be deployed globally by 2020, and between 40 and 70 million by 2025, according to estimates based on a recent statement from carmakers.
The UAE System for Electric Vehicles, the first of its kind regionally, was unveiled earlier this year.
The launch set up a minimum standard for the efficient power consumption for electric vehicles as part of a strategy to protect the environment and natural resources of the country.
Dubai's Supreme Council of Energy unveiled incentives to encourage more to invest in energy efficient models, such as electric vehicles, back in September. The biggest incentive is currently being led by the Dubai Green Mobility Initiative, which enables drivers to charge their cars for free at DEWA's Green Charger electric vehicle charging stations until the end of 2019. These drivers are also exempt from Salik fees.