Dubai, 16 February 2021: Emirates NBD, a leading banking group in the MENAT (Middle East, North Africa and Turkey) region, and MetLife, one of the world's largest life insurance  companies have announced a strategic partnership to provide insurance products and solutions to the bank's extensive wealth, retail and SME customer base across the United Arab Emirates.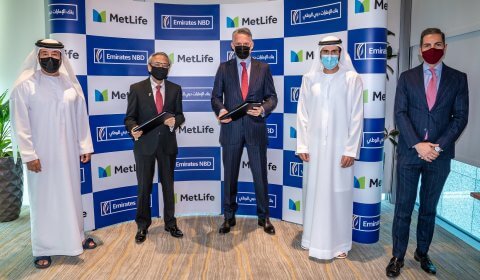 The new long-term partnership will make available a comprehensive range of customisable protection and savings solutions for customers, covering life, accident and health insurance. Customers will be able to access a range of term plans that provide high protection covers along with options to insure against critical illness and disability. Customers can also purchase whole-of-life protection plans that permit plan contributions to be made for a limited number of years and provide lifelong coverage, as well as for savings solutions. Plans are available for SME customers as well to cover business related liabilities and to provide key person insurance coverage.
MetLife's customer research shows that 60% of UAE residents are under-insured and have inadequate coverage against emergencies such as accidents and critical illnesses, and a growing number are looking to buy a new insurance plan in the near future.
The plans will provide customers with enhanced flexibility in payment options and coverage terms, transparent charging schedules as well as a 30-day free look period during which customers can return the plan with no commitments or charges. Emirates NBD customers can make a request to their Emirates NBD relationship manager, branch officer or through the bank's website, based on which a MetLife insurance specialist will connect with the applicant to discuss requirements and suggest suitable solutions.
Suvo Sarkar, Senior Executive Vice President and Head of Retail Banking and Wealth Management, Emirates NBD commented, "As people become increasingly aware of the importance of financial preparedness, we are pleased to provide our customers, in collaboration with MetLife, easy access to best-in-class insurance products and solutions that are integral to their long term financial planning. Being a leading bank offering customer focused financial solutions, we remain committed to helping our customers meet their protection and savings needs in the best way".
Commenting on the partnership, Dimitris Mazarakis, General Manager, MetLife Gulf, said, "These are demanding times for our customers as they confront unprecedented challenges brought by the current situation. We are proud to partner with an organisation that shares our vision, values, and priorities. Our shared commitment to putting the customer first through driving customer-centricity, innovation, and digital transformation is what sets us apart in the market".