Facebook has reportedly suspended 70 accounts, 138 pages and 65 Instagram accounts associated with a "troll factory," which has been sanctioned by US authorities for fake activism and misleading political posts.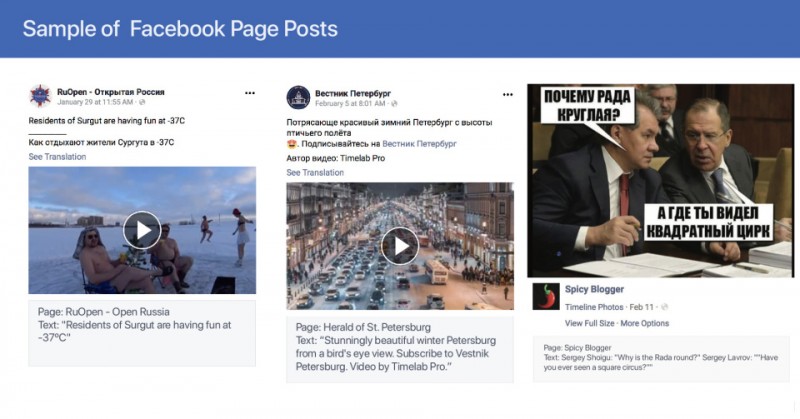 The company's chief security officer Alex Stamos recently announced the move posting a handful of sample ads and pages that it says were run by the Russia-based Internet Research Agency.
"Facebook was built for conversation and human connection. It's why we ask that people using our service be themselves — whether it's an individual, a business or a nonprofit. Of course, this isn't always possible."
Stamos noted that the IRA has repeatedly used complex networks of inauthentic accounts to deceive and manipulate people who use Facebook. "It's why we don't want them on Facebook. We removed this latest set of Pages and accounts solely because they were controlled by the IRA — not based on the content."
The Facebook security chief said uncovering these activities took months of work.
Around 95 percent of the pages with language-specific content were aimed at Russian speakers, and 1.08 million users followed at least one of the pages. The Instagram accounts had a total of 493,000 followers, and the accounts had collectively spent around $167,000 on ads since the start of 2015.
The world's largest social media network is facing scrutiny from the US and European governments after a whistleblower's allegations that London-based political consultancy Cambridge Analytica improperly accessed user information to build profiles on American voters that were later used to help elect US President Donald Trump in 2016.
Mark Zuckerberg said in a Facebook post that this update was "to prevent them [IRA] from interfering in foreign elections.
"This update is about taking down their pages targeting people living in Russia. This Russian agency has repeatedly acted deceptively and tried to manipulate people in the US, Europe, and Russia – and we don't want them on Facebook anywhere in the world."