Huawei Consumer Business Group (CBG) has signed a Global Strategic Partnership agreement with Dubai's Department of Tourism and Commerce Marketing (Dubai Tourism).
The signing ceremony was held on May 14th, 2018 at Huawei's HQ in Shenzhen, China.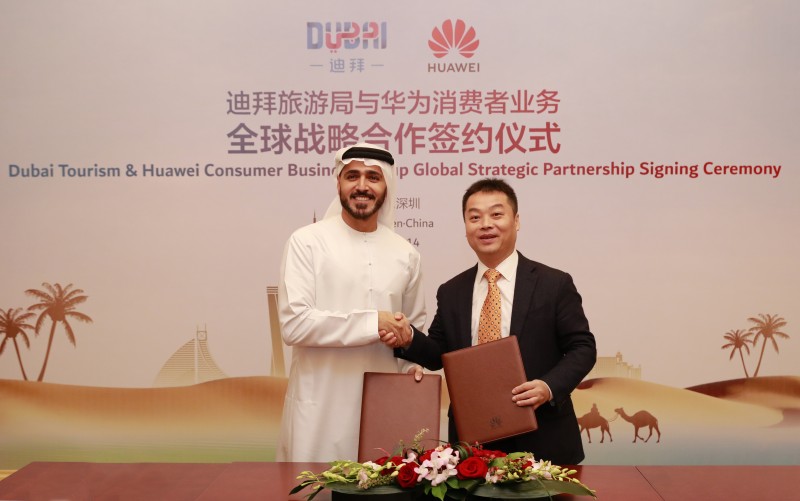 The new partnership aims to position and promote Dubai as a global business destination and leisure hub through Huawei Mobile Services.
In line with this, Huawei Mobile Services will provide pre-arrival and on arrival seamless travelling services and recommendations to Dubai visitors not only from China but also from other global business and tourist destinations via Huawei Mobile Services, SkyTone, Smart Browser and Smart Assistance, etc.
Alex Zhang, President of Huawei Consumer Cloud Service, said, "At Huawei, we share the same vision as that of Dubai – to continuously innovate. The agreement underlines our shared vision with Dubai Tourism to establish Dubai as a global business and leisure hub. Huawei is committed to and has been providing the latest innovative mobile services to MENA users, including, Cloud Storage, Theme, and the recently launched Huawei AppGallery, an app distribution platform that allows users to search, download, manage, and share mobile apps on Huawei mobile devices. Now, we are aiming to introduce new services, including SkyTone, Smart Browser & Smart Assistance in overseas markets."
The signing ceremony was held on 14th May 2018 at Huawei's HQ in Shenzhen, China.